Ready for today's Beat 360°? Everyday we post a picture – and you provide the caption and our staff will join in too. Tune in tonight at 10pm to see if you are our favorite! Here is the 'Beat 360°' pic:
Competitors 'HMS Orion' take part in the Hoar Cross Downhill Soap Box race on December 30, 2009 in Lichfield, England. The annual race in the Staffordshire village of Hoar Cross raises tens of thousands of pounds for charity. (Photo by Christopher Furlong/Getty Images)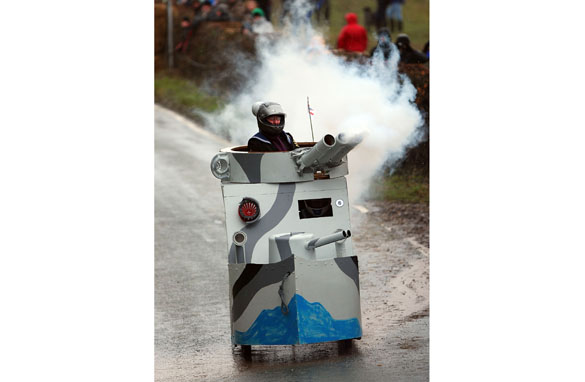 Have fun with it. We're looking forward to your captions! Make sure to include your name, city, state (or country) so we can post your comment.
Beat 360° Winners:
Staff:
Kirk McDonald
"After appearing on "Pimp My Soapbox", Cheney gets back on his to criticize the Obama administration."
Viewer:
Isabel Siaba (Brazil)
"Richard Heene science detective makes dramatic escape from jail."
_________________________________________________________________________________