Ready for today's Beat 360°? Everyday we post a picture – and you provide the caption and our staff will join in too. Tune in tonight at 10pm to see if you are our favorite! Here is the 'Beat 360°' pic:
President Barack Obama greets actor Robert DeNiro and rock musician Bruce Springsteen at a reception for the Kennedy Center Honors recipients in the Blue Room of the White House, Dec. 6, 2009.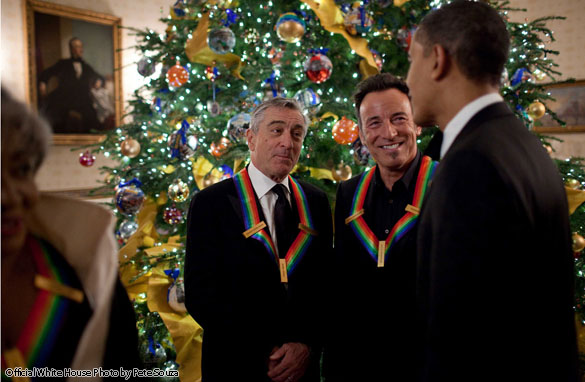 Have fun with it. We're looking forward to your captions! Make sure to include your name, city, state (or country) so we can post your comment.
Staff:
Candy Crowley
"All together now "Born in the USA. I was Born in the USA"
Viewer:
Colleen Bonneville, Bloomington, Minnesota
"No Bruce I am the boss, and No, Robert; I am NOT talking to you."
_________________________________________________________________________________