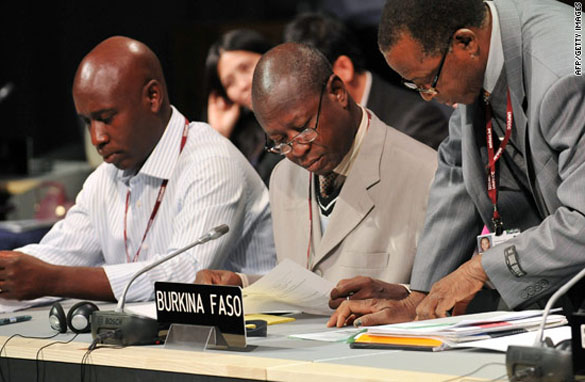 Delegates from Burkina Faso at the UN climate talks in Copenhagen which run from December 7 to 18.
J. Timmons Roberts
Director of Center Environmental Studies, Brown University
It's mid-evening, and yet the meeting has not yet begun. I'm sitting in a huge UN plenary negotiating hall with rows and rows of tables, each with a black plaque bearing a country's name – nearly every country in the world – and lots of acronyms for agencies you've probably never heard of, all facing a long table and two huge video monitors. A row of tiny booths for interpreters lines one wall.
It took me a long while to notice among the sea of black country plaques the one white one indicating a nation that never ratified the Kyoto Protocol and therefore is not allowed to speak here: the United States.
Watching can be interesting, or deadly boring.
This is the time when negotiations shift gears. Foreign affairs ministers have arrived, as have a few heads of state, such as Britain's Gordon Brown. The fifteen or so negotiating groups are due to finalize their prosposals, with the big issues worked out, so that final details can be tidied in time for the world leaders who will arrive in the next several days.