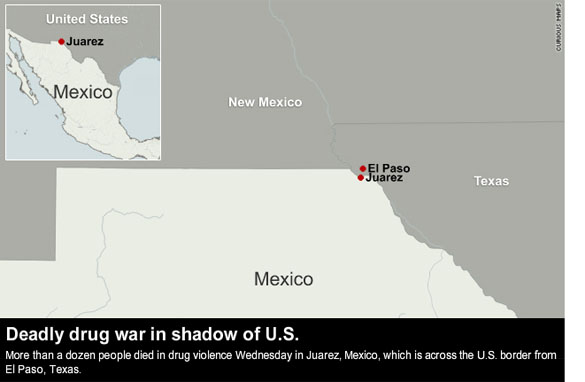 Ismael Estrada
CNN's AC360
It's an all-too common scene on patrol with a joint Mexican law enforcement task force in Juarez, Mexico.
Two people are shot dead in broad daylight Wednesday in a city lost in a drug war between rival cartels over the lucrative drug route into the United States.
Gunmen fire on a car, killing the driver; the passenger starts to flee and is gunned down in the street. These are the 11th and 12th killings in the Mexican city that day. Locals said killings are more frequent in the evenings. At this point, the sun hasn't even started to go down.
Juarez has become a deadly city where bodies, blood and gun-shell casings are commonplace in the streets.
In 2008, more than 1,600 people were killed in drug-related violence; this year local government officials put that number at more than 2,400. The carnage is taking place in a city with a population of around 1.5 million, literally at America's doorstep. Mexican President Felipe Calderon has declared a war on drug cartels and the way they operate their businesses.
Go here to keep reading and scroll down to view a map of Juarez