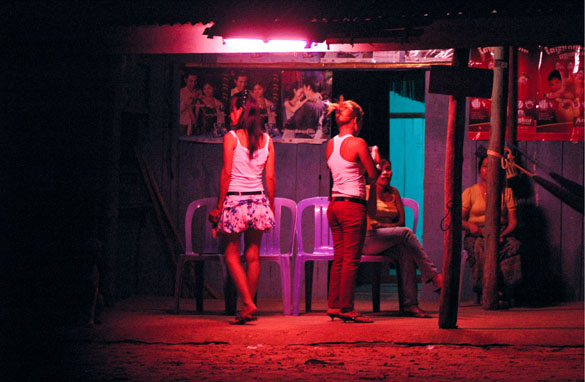 Girls working as sex workers in Cambodia wait for their next clients. Scenes like this are common in the streets of Phnom Penh and outside the city in rural villages like this one. Many of the girls are still teenagers. It is estimated that nearly 80,000 women and young girls are enslaved in the sex trade here.
Laura Blank
World Vision
Over the past four weeks, a team from World Vision's Gift Catalog has been traveling around the world on the "Spirit of Christmas" tour to answer the question that so many have at this time of year - "If I donate to a charity this holiday, how do I know that my donation is really making a difference?"
The team has meet single mothers in the South Bronx, alpaca farmers in Ecuador, street children in Cambodia, and rural villagers in Zambia. Next week, they will travel to Ethiopia to see what happens when a community has access to clean water, a basic need for many of us that often goes unmet in the developing world.
Along the way, the team has been talking to these families about what donations through charities like World Vision can do to help change their lives.
"For families living in poverty, the holidays don't bring thoughts of good cheer and gifts," said Devin Hermanson, campaign manager for the tour.
"While the holidays prompt us to think about people less fortunate than ourselves, many people still think of poverty as a problem for someone else to deal with. But there is a way to make a difference. I'm traveling around the world to meet people who's lives have been changed through these gifts. I can attest to the life-changing impact; I've seen it first-hand."
Last week, the team traveled to Cambodia, a country globally infamous fo its connections to the sex trade. In Phnom Penh, the team met young girls who managed to escape the clutches of the sex trade and are working to rebuild their lives. One of the team's videographers, Lisa Berglund, had an opportunity to talk to one brave young girl, Ka.
"I have to admit, as we sat down to talk, I was a little bit nervous," said Lisa. "Ka has endured so many things in her twenty years of life. I wasnt sure I was ready to hear her story. But after spending a day with her, Kahas now become my shining example of resilience, bravery, and resolve."
Today, after being rescued from the streets of Phnom Penh, Ka says she can "see a brighter day" in her future. Ka is one of an estimated 80,000 women and children involved in the sex trade in Cambodia. This is her story...
Editor's Note: World Vision is a Christian humanitarian charity organization dedicated to working with children, families, and their communities worldwide to reach their full potential by tackling the causes of poverty and injustice.