Ready for today's Beat 360°? Everyday we post a picture – and you provide the caption and our staff will join in too. Tune in tonight at 10pm to see if you are our favorite! Here is the 'Beat 360°' pic:
First Lady Michelle Obama removes dust from Nobel peace prize laureate, US President Barack Obama's suit as Norway's King Harald looks on at the Royal Castle in Oslo on December 10, 2009.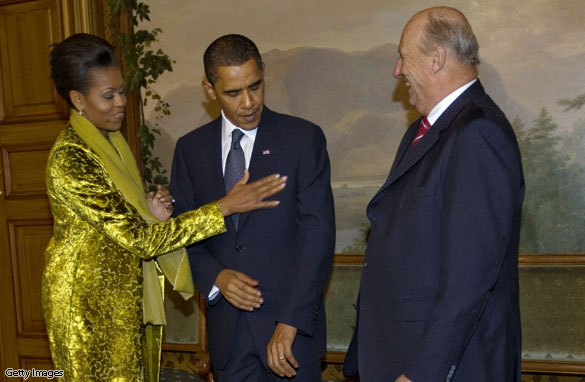 Have fun with it. We're looking forward to your captions! Make sure to include your name, city, state (or country) so we can post your comment.
Staff:
Tom Foreman
"Amid suggestions he does not deserve the Nobel Prize, the First Lady brushes a chip off of the president's shoulder."
Viewer:
Terri, Atlanta
"There, there, Barack, calm down. The Norwegians have assured us that the Salahi's will not be able to sneak in here..."
_________________________________________________________________________________