Program Note: Tune in tonight to hear more from Konrad Steffen on AC360° at 10 p.m. ET.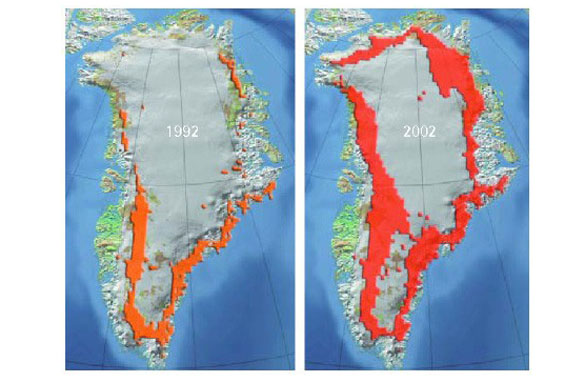 Konrad Steffen
Director, Cooperative Institute for Research in Environmental Sciences
The total volume of land-based ice in the Arctic has been estimated to be about 3,100,000 cubic kilometers, which corresponds to a sea-level equivalent of about eight meters. Most arctic glaciers and ice caps have been in decline since the early 1960s, with this trend speeding up in the 1990s. A small number of glaciers, especially in Scandinavia, have gained mass as increased precipitation outpaced the increase in melting in few areas.
The Greenland Ice Sheet dominates land ice in the Arctic. Maximum surface-melt area on the ice sheet increased on the average by 16% from 1979-2002 (Steffen et al., 2004), an area roughly the size of Sweden, with considerable variability from year to year, The total area of surface melt on the Greenland Ice Sheet broke all records in 2002, with extreme melting reaching up to 2000 meters in elevation. Satellite data show an increasing trend in the melt extent since 1979. This trend is interrupted in 1992, following the eruption of the Mt. Pinatubo, which created a short-term global cooling as particles spewed from the volcano reduced the amount of sunlight that reached the earth.