Reporter's Note: I have not seen President Obama at the mall, which makes me wonder how his Christmas shopping is going. Mine is progressing pretty well; as is this continuing series of letters to the White House.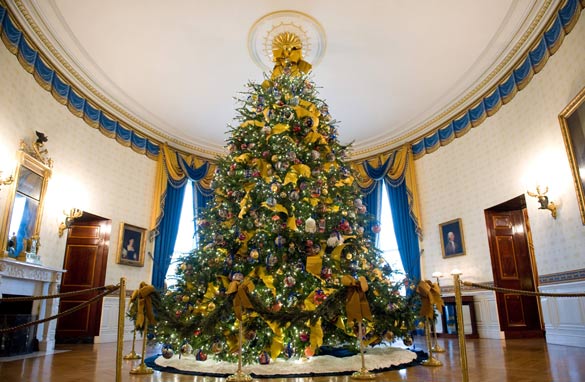 Tom Foreman | BIO
AC360° Correspondent
Dear Mr. President,
Getting the ghost out of our attic is not going to be easy. I have seen him (or her, I've never been that good at seeing the supernatural) peeking shyly from the ornamental window at the highest corner of the house for almost two months now, and even though she/he makes no noise, just the idea of…it….being there has started to trouble me. Of course, it should not. After all, I put it there.
Every October, I crawl through a narrow attic passage on a board over the joists, trying not to disturb the insulation as I wriggle through, balance on a pair of beams, step to the window and slip the lighted, plastic ghost into place. Then in early December, I make the journey again to take the ghost down and hang a huge (and heavy!) lighted wreath outside the same window. Anyway, we've got to make the switch this weekend and I'm not looking forward to it.
There are many chores this time of year that are a bit of a struggle to take on, and I'm sure you must be more than usually overwhelmed with the prospect of Christmas shopping. So I decided to help out with a little gift suggestion list for some of those closest to you. Considering our economic times, I'm going with a blend of practical and pleasant.
1) Joe Biden: Call me crazy, but he looks like a guy with plenty of comfy slippers, so that idea won't work. Not a drinker, so wine is out. On the other hand, what does every Vice President have a lot of? Time on their hands! I think I'd give him either a decorative hour glass for his desk, or perhaps an aquarium. He can watch the fish swim around, and if you need to keep him corralled you can even make it part of the job. "Seriously, Joe, I must know how many times the angle fish goes through the little pirate ship today."
2) Hillary Clinton: What she really wants you can't give her; not without giving up your job. But you can give her the next best thing: How about an Oval Desk! I know that seems a little extravagant in our tough times, but she's done more than her share to make your Administration look good, if only by keeping her husband in a productive and positive mood about it all.
3) Kathy Sebelius: She's had some difficulties, what with the swine flu vaccine and the breast cancer screening controversy. With health care on the table, I'm pretty sure you can't afford to give her time off to go to a spa, but maybe you can lower the heat on her. How about having another party? That will focus all the attention on your security folks and the social office. You can call it the "Let's Give Kathleen a Break Christmas Party." Maybe you can even issue a presidential challenge: A free poinsettia to the first three people to sneak in without invitations.
4) Tim Geithner: No sweaters, no iPods, no new cell phone or HD TV. This guy needs cash. At least a hundred bucks. Make like the grandparents and give him a hand.
5) Me! Truth be told, Mr. President, I'm doing fine. Sure, I'm worried about the economy like anyone else. I pray for the safety and success of our troops overseas, and I can't help but be concerned about the deepening political divides in our nation. Anything you can do to make those situation better, I'm all for. But in a hands-on, put-it-under-the-tree kind of way, I don't really need or want anything. Except maybe a call.
Ah well, the ghost is howling in the window and the wreath is waiting. Going to get our Christmas tree this weekend. I notice you already have yours. Have you decorated it yet? And btw, nice job on the big, outdoor tree-lighting with the family. Looked like fun.
Regards,
Tom
Follow Tom on Twitter @tomforemancnn.