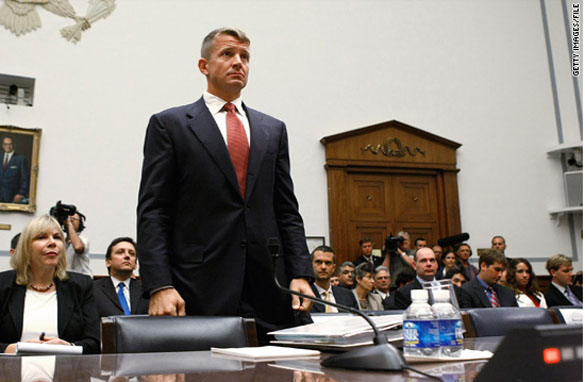 Erik Prince, chairman of Blakwater USA, at the House Oversight and Government Reform Committee hearing October 2, 2007
Suzanne Simons
CNN Executive Producer
There's a lot of head-scratching at the CIA over an article in Vanity Fair magazine that dubs Erik Prince, the founder of the notorious private military contractor Blackwater, a "tycoon, contractor, soldier, spy."
In the piece, he comes across as so entrenched with the CIA that the agency needs him to perform the most sensitive secret missions, including those involving hunting down and taking out al Qaeda operatives.
It's true that Prince, as the sole owner of one of the most well-connected private military contractors in modern history, is in a position of enormous trust within the government. So why is it that he's lashing out publicly at that same government?
Prince, a 40-year-old former Navy SEAL, inherited what he called a sizable amount of money when his father died in the late '90s. He's used that money to help climb to the top of an industry that has mushroomed since the invasion of Afghanistan in 2001.