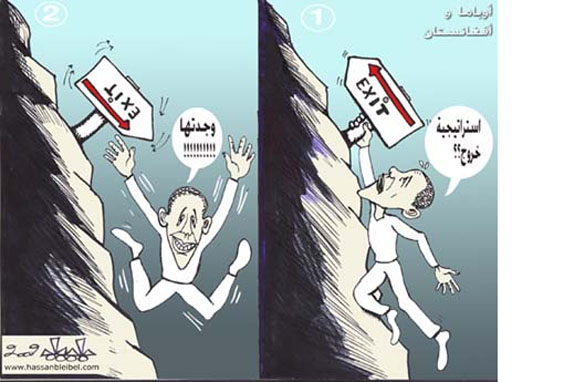 (Al-Mustaqbal – Lebanon)
Octavia Nasr
AC360° Contributor
CNN Senior Editor, Mideast Affairs
When President Barack Obama spoke in front of cadets, staff and guests at West Point to lay out his administration's new strategy for Afghanistan, "an entire Middle East region was paying attention and analyzing his words carefully," says Asharq Al-Awsat columnist Abdel Rahman al-Rashed.
According to al-Rashed, the biggest threat facing the Middle East today is terrorism. He says Arab governments and ordinary citizens have been waiting for a sign from President Obama since he took office to gauge his level of commitment in fighting terrorism. "Last night we all got our answer and it's a positive one" said al-Rashed. "We heard a serious U.S. commitment to fight al Qaeda and Taliban in Afghanistan and Pakistan." That, he says, is a comforting stance from the U.S. that "will encourage local governments to do their part and fight terrorism in their backyards."
The Middle East region is very complex, and it is going through much turmoil and instability at the moment. Beyond the headlines of the Israeli-Palestinian conflict, Iran's nuclear ambitions and Iraq's ongoing struggle to establish itself as a sovereign nation capable of securing its citizens and borders, serious problems are brewing elsewhere. In addition to a growing number of al Qaeda-linked terror attacks in North Africa and an alarming Shiite-Sunni tension in countries such as Morocco and Bahrain, fierce clashes are raging on the Saudi-Yemen border. The rugged mountainous region is witnessing daily battles as troops from both countries try to crush a rebellion by a group known as Al-Houthis, that al-Rashed believes has direct ties to al Qaeda. "Everything is connected" he says. "If the U.S. defeats al Qaeda and Taliban in Afghanistan and Pakistan, and Arab governments continue to isolate al Qaeda in the region, all their cells will fall apart."
Al-Rashed isn't alone to think that al Qaeda and its allies are widespread and dangerous. He says, "They're like cancer cells and should be dealt with as such." He belongs to a group of analysts who believe that al Qaeda can be defeated with the right strategy. "The numbers aren't important, 30,000 more troops or 3,000 isn't the issue," he told me on the phone from Dubai. What matters, he says, is Obama's message which means commitment. "The message that says we won't walk away from facing al Qaeda, the message that we believe we can defeat al Qaeda and we will; those are the messages that people in the region wanted to hear and heard last night."
But not everyone in the Middle East is as optimistic as al-Rashed, skeptics have their say too. On Arab networks, analysts and commentators had mixed feelings immediately following the speech. Some compared the West Point rhetoric to that of President George W. Bush prior to deploying troops to war zones. A panel discussion on the Qatar-owned Al-Jazeera, focused on the injection of the 9/11 attacks into the speech as they called it another "Bush administration fear tactic." On the Saudi-owned Al-Arabiya, which Abdel Rahman al-Rashed is general manager of, post speech discussion focused more on Pakistan where concern was expressed whether the U.S. can be successful in thwarting al Qaeda and Taliban with more boots on the ground.
A cartoon in Kuwait's Al-Jarida newspaper expresses another kind of skepticism popular in the Arab world. It shows a tired Obama dressed as a U.S. soldier weighed down by the quagmire of Afghanistan having a difficulty to walk but holding in his hand the new strategy for that country. The idea of the quagmire is echoed in another cartoon from Jordan's Alarab Alyaoum showing President Obama as a U.S. soldier half submerged in water and holding an Exit sign. Lebanon's Al-Mustaqbal newspaper showed Obama saying "I got the solution" as he falls off the cliff that is Afghanistan. While in Kuwait's Aljarida a cartoon portrayed Obama as gambling with the "Afghan War Jackpot" and saying, "Bush played this machine for years with no payoff… but I think it's due." From Alwatan Newspaper in Qatar a suggestion that U.S. is driving in reverse now in Afghanistan while Alwatan in Oman's cartoon describes the new strategy as a plan to run away from Afghanistan.
Simple cartoons describe how many in the Arab world view the U.S. at this time in history. Al-Rashed agrees that many Arabs are skeptical but he stresses, "at least it's a positive image now in comparison to the previous administration." Judging by the variety of reactions to the speech, it seems that most Arabs would give President Obama the benefit of proving that his rhetoric matches his actions before they pass judgment on his administration.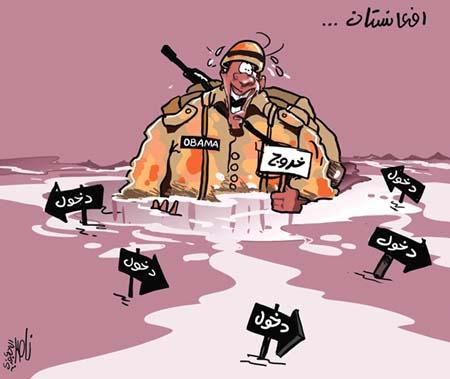 (Al-Arab Al-Yawm – Jordan)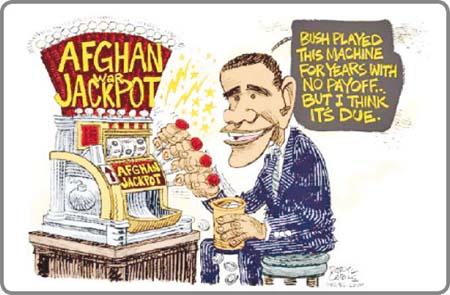 (Al-Jarida – Kuwait)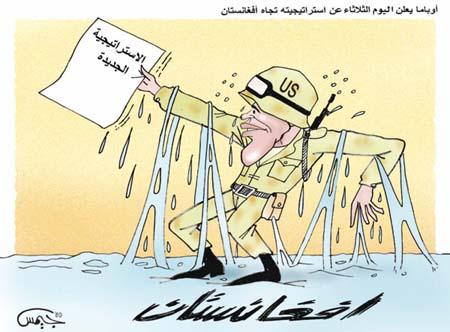 (Al-Jarida – Kuwait)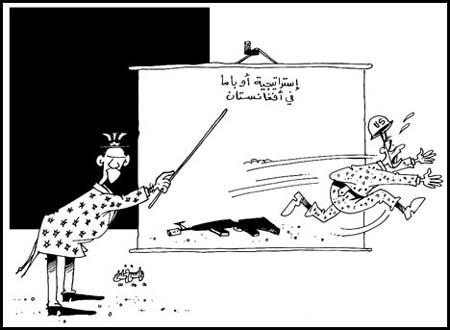 (Al-Watan – Oman)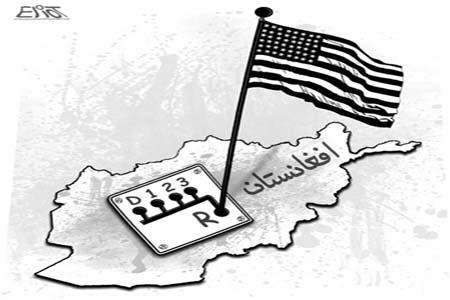 (Al-Watan Newspaper – Qatar)