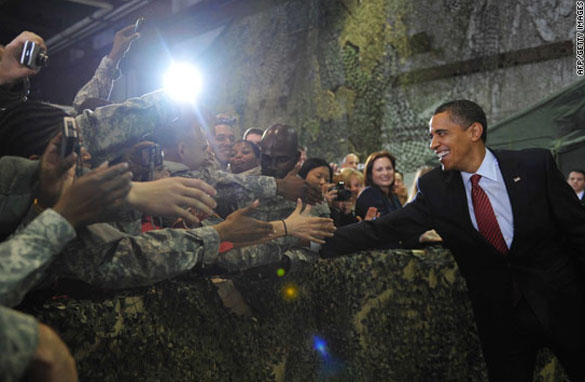 President Obama greets U.S. troops on a visit to South Korea.
Julian E. Zelizer
Special to CNN
President Obama is taking a huge step in his presidency. After weeks of careful deliberation, the president has sided with military officials who have been pushing for an escalation of U.S. forces in Afghanistan.
Explaining his objectives and exit strategy, Obama is expected to announce that he will be sending 30,000 troops, and possibly more, into the region.
With this decision, Obama inches closer to becoming a wartime president. Even though the White House insists that they will continue to work hard on their domestic agenda, historically, presidents who become involved in protracted ground wars find that their presidencies are defined by their military conflicts. The politics that surround a military operation play an enormous role in the political success or failure of an administration.