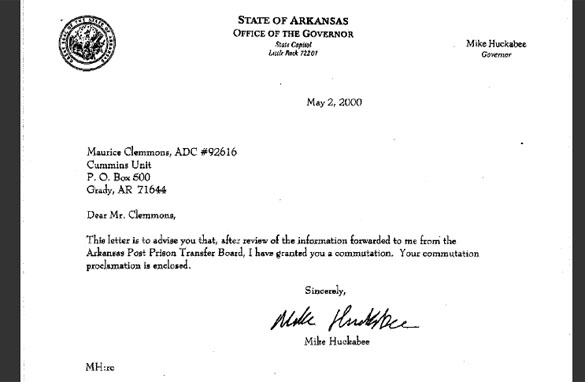 (Documents courtesy of Seattle Times and the Arkansas Parole Board)
AC360°
Police are still looking for the perpetrator in the deaths of four uniformed police officers who were shot Sunday in a coffee shop prior to going out on patrol.
A manhunt was under way Monday for a suspect in the shooting deaths of four police officers after he apparently eluded authorities in an east Seattle neighborhood.
Following a standoff that stretched to nearly 12 hours, Maurice Clemmons was not found in the home in the Leschi neighborhood, Seattle police spokesman Jeff Kappel told reporters. There is evidence that Clemmons was outside the home Sunday night, but apparently fled the area, he said.
Clemmons was given a 95-year prison sentence in Arkansas in 1989 for a host of charges, including robberies, burglaries, thefts and bringing a gun to school. His sentence was commuted in 2000 by then-Arkansas Gov. Mike Huckabee.
The Seattle Times has obtained documents released by the Arkansas Parole board including the application Clemmons originally filed for clemency. Clemmons wrote at the time:
Please keep in mind that before this crime spree I had at no time in my life ever been into any kind of problems with the law. I come from a very good Christian family and I was raised much better than my actions speak. (I'm still ashamed to this day for the shame my stupid involvement in these crimes brought upon my family's name.)
But, as mentioned I was only (16) sixteen years old and had just moved into a very crime ridden neighborhood. Where I was unable to resist the negative influence of the other neighborhood boys because I only wanted to fit in and be accepted because I'd just moved away from all my childhood friends and had no friends in Arkansas.
Clemons also added:
Where once stood a young (16) sixteen year old misguided fool, who's own life he was unable to rule. Now stands at 27 year old man, who has learned through the 'school of hard knocks's to appreciate and respect the rights of others. And who had in the midst of the harsh reality of prison life developed the necessary skills to stand along and not to follow a multitude to do evil, as I did as a 16 year old child.
Read Maurice Clemmons parole information and appeal for clemency...