Ready for today's Beat 360°? Everyday we post a picture – and you provide the caption and our staff will join in too. Tune in tonight at 10pm to see if you are our favorite! Here is the 'Beat 360°' pic:
Traders work the floor at the New York Stock Exchange, some with their children on the NYSE's Kid's Day, on November 27, 2009 in New York City. (Getty Images)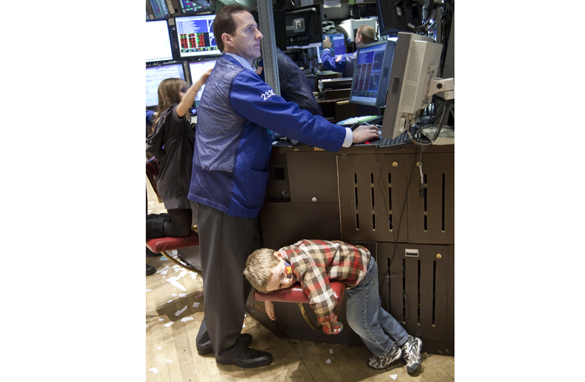 Have fun with it. We're looking forward to your captions! Make sure to include your name, city, state (or country) so we can post your comment.
Staff:
Eli Lazar
"Whew…and I thought playing tag was hard work, what the heck are derivatives?"
Viewer:
Ed, Sidney, Ohio
"Will somebody please BUY, so we can go home."
_________________________________________________________________________________