Ready for today's Beat 360°? Everyday we post a picture – and you provide the caption and our staff will join in too. Tune in tonight at 10pm to see if you are our favorite! Here is the 'Beat 360°' pic:
President Barack Obama plays peek-a-boo with Maeve Beliveau, the daughter of Director of Advance Emmett Beliveau, in the Outer Oval Office.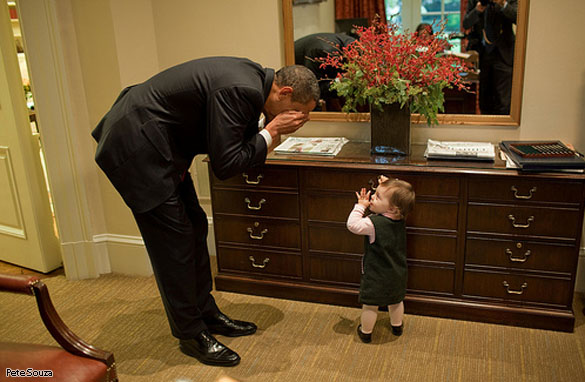 Have fun with it. We're looking forward to your captions! Make sure to include your name, city, state (or country) so we can post your comment.
UPDATE BEAT 360º WINNERS
Staff:
Randi Kaye
'President Obama: "Okay, I'll close my eyes and you hide the 'public option' in one of those drawers where the Senators will never find it."'
Viewer:
Shawn Hoffman, Kingman, AZ
"OK, I will close my eyes and let you make my cabinet decisions."
_________________________________________________________________________________