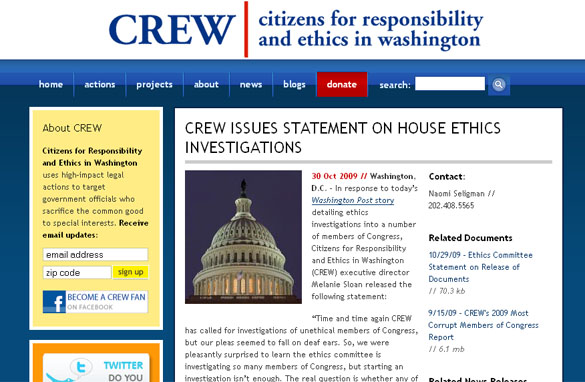 AC360°
The Citizens for Responsibility and Ethics in Washington (CREW) have responded to the documents leaked from the House of Representatives Ethics committee, one of the most secretive and closely guarded in Congress, that have forced the panel to publicly acknowledge at least eight active investigations into ethics breaches from current members of the House of Representatives.
"Time and time again CREW has called for investigations of unethical members of Congress, but our pleas seemed to fall on deaf ears. So, we were pleasantly surprised to learn the ethics committee is investigating so many members of Congress, but starting an investigation isn't enough. The real question is whether any of the members under investigation will ever be held accountable for their conduct. The committee's record on such matters is dismal. You have only to look back at the Mark Foley investigation - where all of America knew there was wrongdoing yet the committee found none - to be skeptical of the House ethics process. There's not much reason to think anything has changed, but one can always hope."
The group advocates for the promotion of ethics and accountability and produce annual lists such as "The Most Corrupt Members of Congress Report"