Ready for today's Beat 360°? Everyday we post a picture – and you provide the caption and our staff will join in too. Tune in tonight at 10pm to see if you are our favorite! Here is the 'Beat 360°' pic:
Squirrel monkeys at Bristol Zoo Gardens investigate a carved pumpkin that has been left as a special Halloween treat in their enclosure.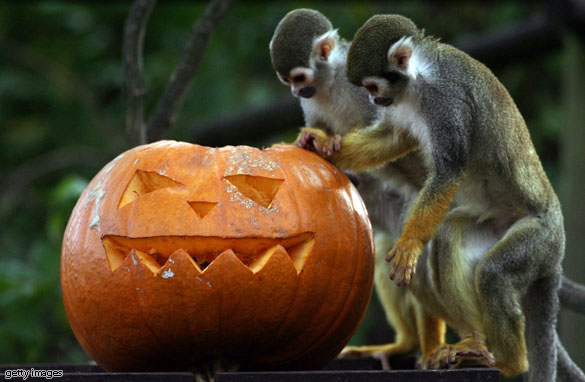 Have fun with it. We're looking forward to your captions! Make sure to include your name, city, state (or country) so we can post your comment.
Winners:
Staff winner: Tom Foreman
Caption: NASA, gutted by budget cuts, is reduced to monkeys, pumpkins, and a catapult.
Viewer winner: Lisa, Louisville, KY
Caption: Hollow head, blank stare, and fake smile – must be a politician.
_________________________________________________________________________________