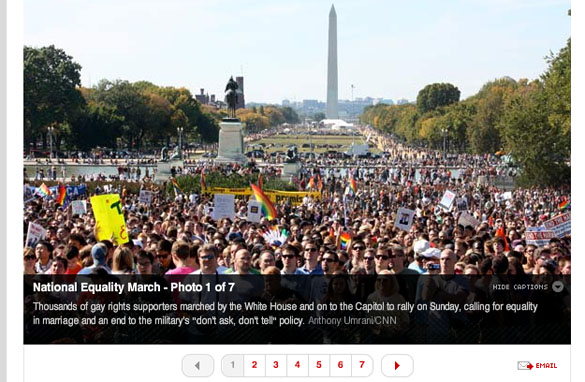 CNN
Judy Shepard stood before a massive crowd at the Capitol on Sunday for a single, painful reason.
"I'm here today because I lost my son to hate."
Her gay son, Matthew Shepard, was kidnapped and severely beaten in October 1998. He died five days later in a hospital.
More than 10 years later, Judy Shepard addressed the thousands of gay rights activists in Washington who wrapped up Sunday's National Equality March with a rousing rally at the Capitol. iReport.com: See photos from the march
"No one has the right to tell my son whether or not he can work anywhere. Whether or not he can live wherever he wants to live and whether or not he can be with the one person he loves - no one has that right," Judy Shepard told the crowd. "We are all Americans. We are all equal Americans, gay, straight or whatever."