Ready for today's Beat 360°? Everyday we post a picture – and you provide the caption and our staff will join in too. Tune in tonight at 10pm to see if you are our favorite! Here is the 'Beat 360°' pic:
U.S. President Barack Obama laughs with Senate Banking and Urban Affairs Committee Chairman Christopher Dodd after making remarks about financial institution regulation reform on October 9, 2009 in Washington, DC. (Photo by Chip Somodevilla/Getty Images)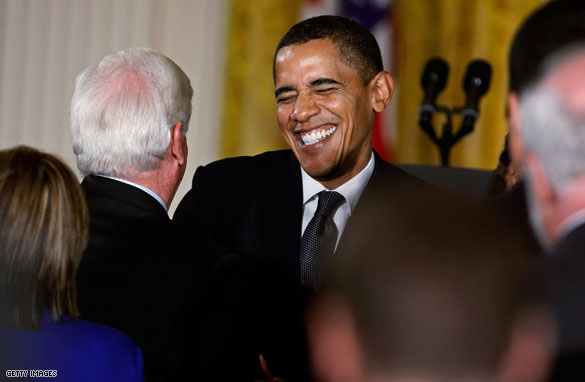 Have fun with it. We're looking forward to your captions! Make sure to include your name, city, state (or country) so we can post your comment.
UPDATE BEAT 360º WINNERS
Staff:
Kirk McDonald
"President Obama wins the Nobel Teeth Prize."
Viewer:
Katherine
"President Obama smiles as he is informed he's been named Super Bowl Champion, winner of the World Series and Miss Universe."
_________________________________________________________________________________