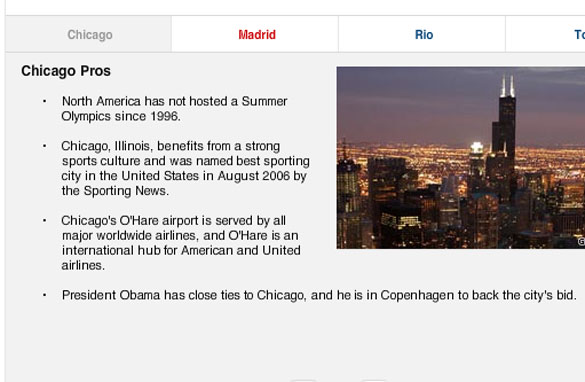 Jessica Ravitz
CNN
From hot dogs in the American heartland to the sexy samba on South American beaches, from traditional Kabuki theater amid high-tech modernity to European culture and sophistication, four international cities hope to showcase what they have to offer the world on the Olympic stage.
The countdown clocks are ticking for Chicago, Illinois; Rio de Janeiro, Brazil; Tokyo, Japan; and Madrid, Spain. The International Olympic Committee, now gathered in Copenhagen, Denmark, will vote Friday to determine the winning host city for the 2016 Olympic Games.
Go here to see an interactive of profiles of all of the cities making a bid.