Ready for today's Beat 360°? Everyday we post a picture – and you provide the caption and our staff will join in too. Tune in tonight at 10pm to see if you are our favorite! Here is the 'Beat 360°' pic:
Singer Mariah Carey, her husband, Nick Cannon, and TV personality Oprah Winfrey appear on The Oprah Winfrey Show at Rumsey Playfield today in New York City.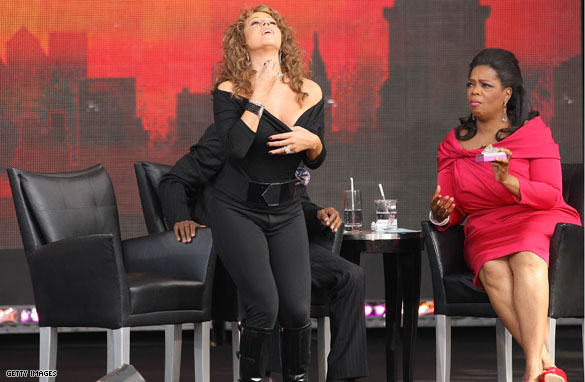 Have fun with it. We're looking forward to your captions! Make sure to include your name, city, state (or country) so we can post your comment.
UPDATE BEAT 360º WINNERS
Staff:
Alyssa Caplan
"Yeah so its really simple actually, when I want to hit those high notes, I just press this button here."
Viewer:
Lisa A – Benson, NC
Oprah looks like she can't wait for Kanye to come and interrupt whatever Mariah Carey is doing.
________________________________________________________________________________