Ready for today's Beat 360°? Everyday we post a picture – and you provide the caption and our staff will join in too. Tune in tonight at 10pm to see if you are our favorite! Here is the 'Beat 360°' pic:
President Barack Obama's daughter Sasha hides behind the sofa as she sneaks up on him at the end of the day in the Oval Office, Aug. 5, 2009. (Official White House Photo by Pete Souza)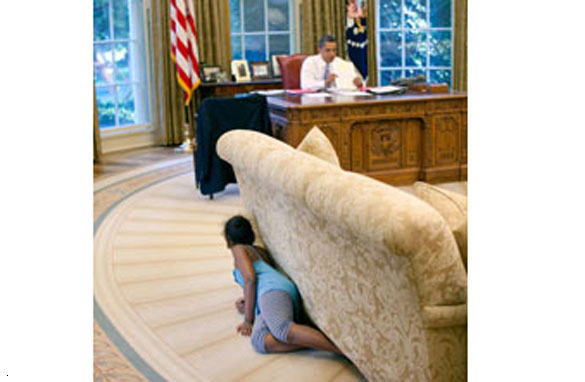 Have fun with it. We're looking forward to your captions! Make sure to include your name, city, state (or country) so we can post your comment.
UPDATE BEAT 360º WINNERS
Staff:
Steve Brusk
""C'mon, c'mon, I promise it's not for the President's foursome again. Honest."
Viewer:
Bob, Massillon, OH
"Well, I may not be the perfect caddy but you're no Tiger Woods either."
_________________________________________________________________________________