Ready for today's Beat 360°? Everyday we post a picture – and you provide the caption and our staff will join in too. Tune in tonight at 10pm to see if you are our favorite! Here is the 'Beat 360°' pic:
Pigs belonging to Jan Fletcher that she owns with her partner and two other couples feed on land close to her home on August 17 2009 in Peasedown, England. This week major DIY retailer B&Q, announced that it is planning to stock modern pigsties to cater for the growing number of consumers interested in keeping animals in their back garden. Helped in part by the recession, recent evidence suggests lots of people in the UK are keener than ever to grow their own food, be it vegetables or more adventurous husbandury such as bee-keeping and pig rearing. (Photo : Matt Cardy/Getty Images)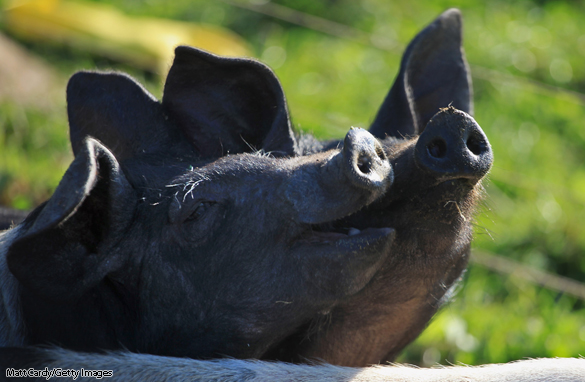 Have fun with it. We're looking forward to your captions! Make sure to include your name, city, state (or country) so we can post your comment.
UPDATE
STAFF WINNER
Ric Ward:
New White House pets Budget and Deficit beg for lipstick.
VIEWER WINNER
Patty A Banks, Palmdale, Ca:
You still scared that Obama's going to keep his promise about trimming the pork?
_________________________________________________________________________________