Ready for today's Beat 360°? Everyday we post a picture – and you provide the caption and our staff will join in too. Tune in tonight at 10pm to see if you are our favorite! Here is the 'Beat 360°' pic:
Zack Neil rides his ash tray bike in down town Amsterdam on August 19, 2009 in Amsterdam, Netherlands. Zack Neil informs inhabitants and tourists about the negative effects of cigarette butts and chewing gum on the environment. The Central Amsterdam government has recently started with this awareness campaign and in the Dutch city of Rotterdam the 90 euro (128 US Dollars) fine has occasionally been handed out. It takes more than 10 years to break down a cigarette butt and up to 50 years for chewing gum. (Photo: Michel Porro/Getty Images)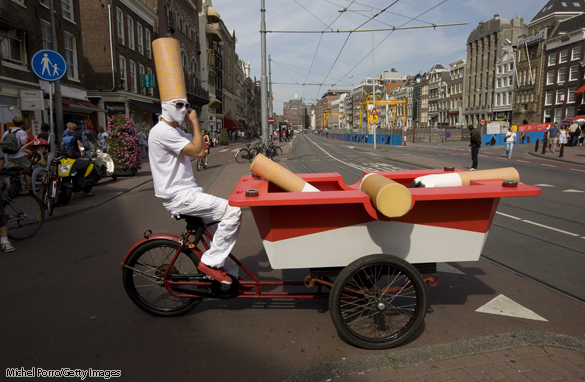 Have fun with it. We're looking forward to your captions! Make sure to include your name, city, state (or country) so we can post your comment.
UPDATE
STAFF WINNER
Jill Billante
New Arizona GOP ad shows President Barack Obama touring the streets of Amsterdam.
VIEWER WINNER
Michael Kajdas, Chicago
I'd ask for a light but I don't want to make an ash of myself.
_________________________________________________________________________________