Ready for today's Beat 360°? Everyday we post a picture – and you provide the caption and our staff will join in too. Tune in tonight at 10pm to see if you are our favorite! Here is the 'Beat 360°' pic:
Two men compete during the traditional German 'Fingerhakeln' championships on August 15, 2009 in Garmisch-Partenkirchen, Germany. Two opponents sit on a table and hook their middlefingers into a leather ribbon and try to pull the other one over the table. (Photo by Miguel Villagran/Getty Images)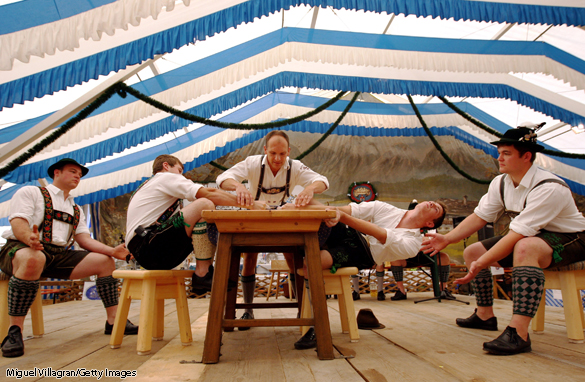 Have fun with it. We're looking forward to your captions! Make sure to include your name, city, state (or country) so we can post your comment.
UPDATE BEAT 360º WINNERS
Staff:
Candy Crowley
Senate Human Resources Department meets disaster when "Costume Day" fails to ease tensions inside the finance committee.
Viewer:
Shawn D Shaw, Los Angeles
Wolf Blitzer invites cnn co-workers over for games and sauerbraten
_________________________________________________________________________________