Ready for today's Beat 360°? Everyday we post a picture – and you provide the caption and our staff will join in too. Tune in tonight at 10pm to see if you are our favorite! Here is the 'Beat 360°' pic:
White House Butler Von Everett pumps up a basketball for President Barack Obama in the Outer Oval Office of the White House, June 30, 2009. (Official White House Photo by Pete Souza)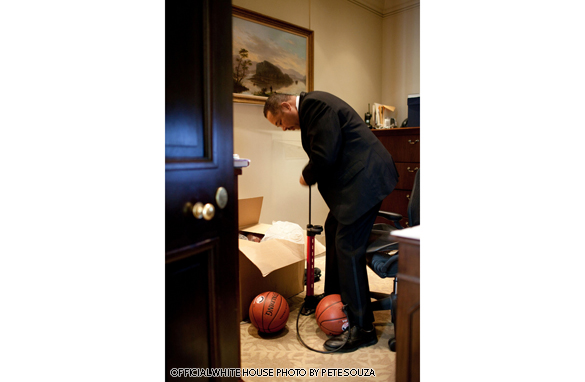 Have fun with it. We're looking forward to your captions! Make sure to include your name, city, state (or country) so we can post your comment.
UPDATE BEAT 360º WINNERS
Staff:
Steve Brusk
Hey, it could be worse. Reagan rode horses.
Viewer:
Jason Kelling Dallas, TX
Republicans got guns; Democrats got balls.
_________________________________________________________________________________