Ready for today's Beat 360°? Everyday we post a picture – and you provide the caption and our staff will join in too. Tune in tonight at 10pm to see if you are our favorite! Here is the 'Beat 360°' pic:
A Beatles tribute band pose for photographs as they walk on the zebra crossing used in the photoshoot for the Beatles album Abbey Road outside the Abbey Road Studios in London. Fans of the Fab Four flocked to the most famous pedestrian crossing in Britain for the 40th anniversary of the taking of one of the greatest images in rock 'n' roll history. (Photo credit : Leon Neal/AFP/Getty Images)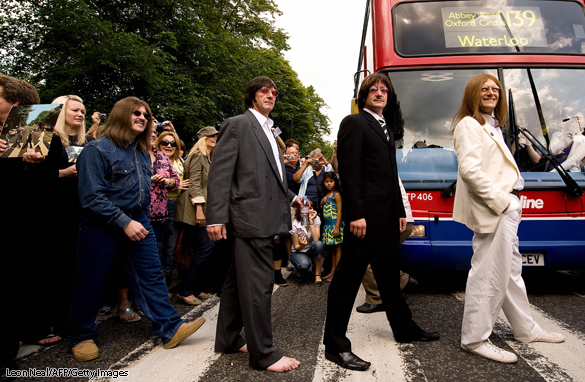 Have fun with it. We're looking forward to your captions! Make sure to include your name, city, state (or country) so we can post your comment.
UPDATE BEAT 360º WINNERS
Staff:
Joneil Adriano
Desperate to meet their fashion idol, Ali Velshi's biggest fans flock around the CNN Express.
Viewer
Mark, Toronto, Canada
All they need is love, and a fitness regime.
_________________________________________________________________________________