Ready for today's Beat 360°? Everyday we post a picture – and you provide the caption and our staff will join in too. Tune in tonight at 10pm to see if you are our favorite! Here is the 'Beat 360°' pic:
White House Chief of Staff Rahm Emanuel reads 'Duck for President,' by Doreen Cronin and Betsy Lewin, to students from Raymond and C.W. Harris Elementary schools during a Reading to the Top event with Education Secretary Arne Duncan and White House Domestic Policy Council Melody Barnes at the Department of Education.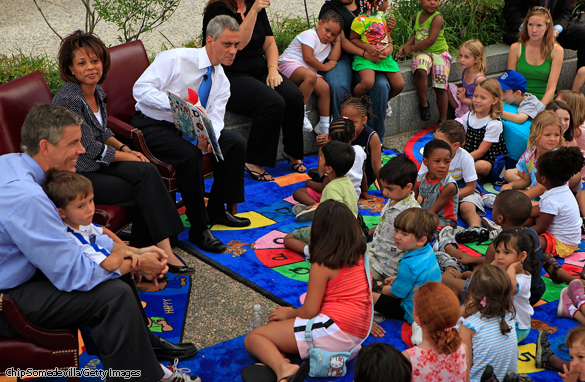 Have fun with it. We're looking forward to your captions! Make sure to include your name, city, state (or country) so we can post your comment.
UPDATE BEAT 360º WINNERS
Staff:
Ric Ward
The administration's new strategy on health care town hall forums.
Viewer:
Bob, Massillon, OH
"And this, kiddies, is the new health reform bill you'll be paying for the rest of your lives. And don't forget Social Security will be broke too."
_________________________________________________________________________________