Program Note: Watch Tom Foreman's report on President Obama's second 100 days in office tonight on AC360° at 10p ET. Also, don't forget to grade the Obama Administration and Congress on how they have handled their second 100 days in office.
Robert Yoon
CNN Sr. Research Analyst
Before Barack Obama was elected president, he promised to restore America's stature in the world by meeting with world leaders. During his first 200 days in office, he has spent a good deal of time abroad, traveling to a total of 14 countries. To see where he's been, check out the map below. The number on each location tells the day in office on which the President visited that location. Full listings of locations are below the images.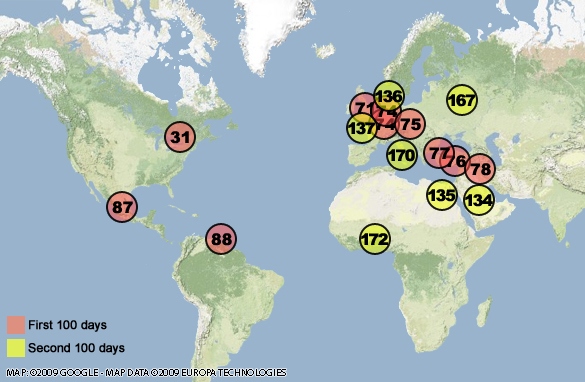 Graphic by: Jacob Smilovitz, AC360° Intern
First 100 days:
Day 31 2/19/2009 Obama travels to Ottawa, Canada, his first foreign trip as president
Day 71 3/31/2009 Obama travels to London for the G-20 economic summit
Day 74 4/3/2009 Obama travels to Strasbourg, France
Day 74 4/3/2009 Obama travels to Baden-Baden, Germany
Day 74 4/3/2009 Obama departs Germany and return to Strasbourg, France
Day 75 4/4/2009 Obama departs France and travel to Prague, the Czech Republic
Day 76 4/5/2009 Obama departs Prague for Ankara, Turkey
Day 77 4/6/2009 Obama travels from Ankara to Istanbul, Turkey
Day 78 4/7/2009 Obama departs Istanbul, Turkey, and heads to Baghdad, Iraq
Day 87 4/16/2009 Obama travels to Mexico City, Mexico
Day 88 4/17/2009 Obama departs Mexico and heads to Port of Spain, Trinidad
Second 100 days:
Day 134 6/2/2009 Obama travels to Riyadh, Saudi Arabia, the first stop on a trip through the Middle East
Day 135 6/3/2009 Obama departs Saudi Arabia for Cairo, Egypt
Day 136 6/4/2009 Obama departs Egypt and travels to Dresden, Germany
Day 137 6/5/2009 Obama departs Germany and meets up with his family in Paris, France
Day 167 7/5/2009 The Obamas departs DC for a week-long trip to Russia, Italy, and Ghana
Day 170 7/8/2009 The Obamas depart Moscow and head to Rome, Italy for the G-8 summit
Day 172 7/10/2009 The Obamas depart Rome, Italy and head to Ghana