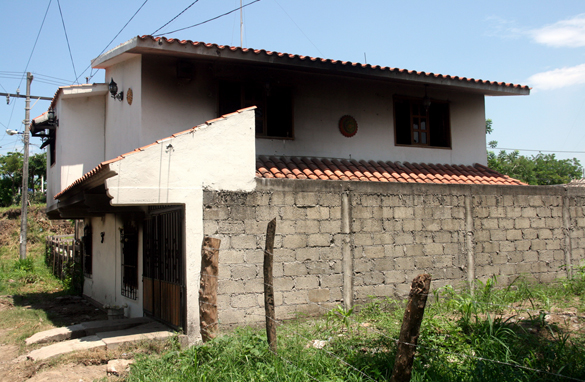 The house of Mexican Police Commander José de Jesús Romero Vázquez. It was attacked last Wednesday.
CNN Producer
An entire family was murdered at this house in Veracruz, Mexico one week ago, the youngest victim just 6-years-old. Gruesome killings, kidnappings and beheadings have dominated daily headlines in this clash between cartels and law enforcement. But this latest attack stood out simply because it's hard to fathom how someone so young could be a target.
Sources say eight or nine highly-trained assassins descended here in a poor neighborhood of this coastal city to the home of local police commander José de Jesús Romero Vázquez. The attack came just before dawn as Vázquez, his wife, three daughters and young son slept.
Armed with guns, grenades and a deadly plan, the attackers carried out their bloody work in less than five minutes. They bombarded the outside of the house before busting down the door and shooting their first victim, the 6-year-old boy who was sleeping downstairs. From there, they moved upstairs to shoot his parents. Authorities believe the three daughters died from the fire started by grenades launched at the home.
Los Zetas, one of the most violent cartels in Mexico is believed to be responsible. Former special forces of the Mexican military formed the group in 1990s and it has since grown into the "most technologically advanced, sophisticated and violent" of the cartels, according to the DEA.
[cnn-photo-caption image=http://i2.cdn.turner.com/cnn/2009/images/08/05/zetas.4.jpg width=292 height=320]
We traveled to this house to not only bring back images to the world of what was happening in Mexico's drug war, but also to try to talk to family or neighbors about the killings. But people here are, understandably, petrified. They don't want to get involved, as the drug cartels remain a daily threat and a much higher authority than government or law enforcement. Even filming here is a big risk as every person that drives by could be a member of the drug cartels or a spy working for them.
While looking into the first floor of the charred home, we could see half-burned magazines, food boxes and other remnants of lives that were tragically extinguished. The stench of scorched wood still hung in the air and the feeling of terror unleashed here just days before still lingered.
There are more than 4,000 victims of Mexico's drug war. And that's just in this year alone. The latest one probably too young to even understand how close the war was to his front door.