Ready for today's Beat 360°? Everyday we post a picture – and you provide the caption and our staff will join in too. Tune in tonight at 10pm to see if you are our favorite! Here is the 'Beat 360°' pic:
An activist who wears a mock bottom and a hospital gown holds signs on Capitol Hill after a rally on healthcare. Activists gathered to rally lawmakers on the Hill for a single payer model healthcare reform and celebrate the 44th birthday of Medicare. (Photo by Alex Wong/Getty Images)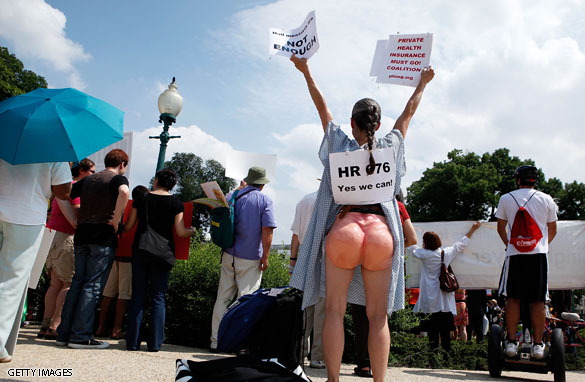 Have fun with it. We're looking forward to your captions! Make sure to include your name, city, state (or country) so we can post your comment.
UPDATE – BEAT 360º WINNERS
Staff:
Joey Gardner
We need health care reform. No ifs, ands or butts.
Viewer:
Kathy, Ottawa, Canada
Just like the Beer Summit…..bottoms up! Yes, we can!
__________________________________________________________________________________