Ready for today's Beat 360°? Everyday we post a picture – and you provide the caption and our staff will join in too. Tune in tonight at 10pm to see if you are our favorite! Here is the 'Beat 360°' pic:
U.S. Secretary of the Department of Homeland Security Janet Napolitano rides the subway with New York City Mayor Michael Bloomberg and New York City Police Commissioner Ray Kelly. (Photo by Chris Hondros/Getty Images)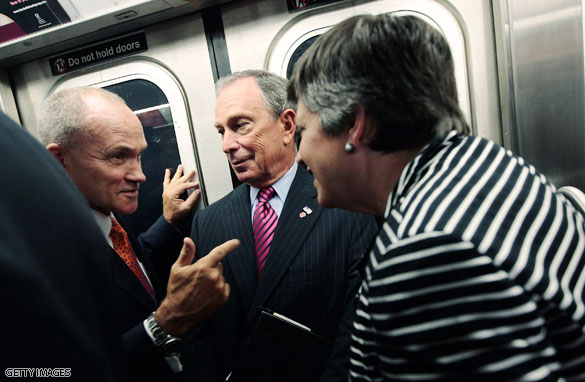 Have fun with it. We're looking forward to your captions! Make sure to include your name, city, state (or country) so we can post your comment.
UPDATE – BEAT 360º WINNERS
Staff:
Suvro Banerji
Erica Hill made a great point last night. I say let's scatter blue M&Ms for the rats on the subway.
Viewer:
Nan, Wenatchee
I believe the delay is due to that traffic-stopping little number you're wearing there, Janet.
__________________________________________________________________________________