Ready for today's Beat 360°? Everyday we post a picture – and you provide the caption and our staff will join in too. Tune in tonight at 10pm to see if you are our favorite! Here is the 'Beat 360°' pic:
Treasury Secretary Timothy Geithner stretches to fetch Chinese vice premier Wang Qishan in the right direction to the meeting room after posing for photographs with other principals before for the Economic Track Principal Meeting of the US-China Strategic and Economic Dialogue at the Ronald Reagan Building and International Trade Center in Washington, DC. (Photo credit : JEWEL SAMAD/AFP/Getty Images)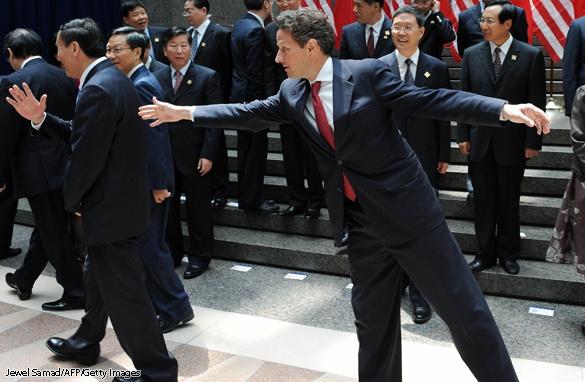 Have fun with it. We're looking forward to your captions! Make sure to include your name, city, state (or country) so we can post your comment.
UPDATE – BEAT 360 WINNERS:
Staff Winner:
Kirk Mcdonald
No, no, no! I promise Red Rover is not a communist reference!
Viewer Winner:
Lee Arphai, Chapel Hill
Not knowing what to do next, Geithner dances around the issues.
__________________________________________________________________________________