Program Note: In CNN's Black in America 2, Soledad O'Brien reports on the innovative and unexpected ways people are transforming the black experience by confronting the most difficult issues facing their community. Tune in on Wednesday, July 22 at 9 p.m. and Thursday, July 23 at 8 p.m..

__________________________________________________________________________________________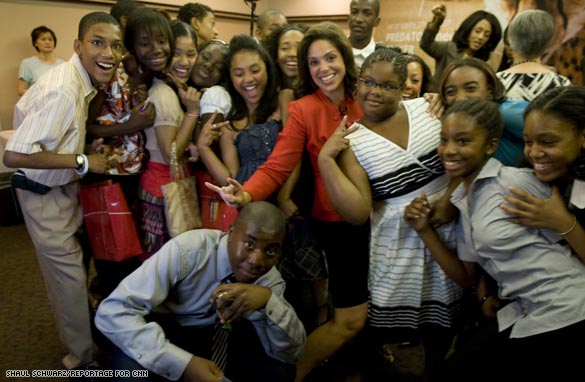 Soledad O'Brien jokes with several of the Journey for Change participants. Left to right: Steven Pallares, Zuliana Burnett, Sayris Pallares, Sadara Lewis, Queen Clyde, Mariah Ralph, Soledad O'Brien, Imaan Williams, Yolaine Calixte, Jenee Lawson, Sydney Smart, Daisa Carr. Joshua Hall on the floor.
Soledad O'Brien
CNN Anchor and Special Correspondent

Over the past year, 30 kids from the Bushwick Salvation Army Community Center have traveled to South African shantytowns, hosted a car wash to raise money for a burn victim, helped rebuild around New Orleans and cleaned up on the streets of Brooklyn.
They are all a part of Journey for Change, a group started by Malaak Compton-Rock to empower children who are growing up in neighborhoods rife with crime and poverty. Malaak, an activist who also happens to be the wife of comedian Chris Rock, believes these kids often limit their dreams. Her dream is to turn them into global citizens who believe in themselves and think big!
I traveled with these amazing young people, ages 12 to 16, eight thousand miles to Johannesburg, South Africa, and I have watched them as they changed and grew as a result of the experience. Their year-long journey will be a part of Black in America 2 on CNN July 22 at 9p and July 23 at 8p. We also continue to post additional material from the trip at CNN.com/BlackinAmerica. Below are blogs from three of the children: Imaan, Joshua and Sydney. I asked them to explain how the South African trip changed them.
Imaan Williams, 12
The trip to South Africa has changed my whole life. I see things in a different way than I did before. Before I went to South Africa I would think everything should be about me and nobody else. I had my moments where I would think to myself, and say in my head, 'why did God put me on this earth and if it is supposed to make me feel like nothing.' Then, I was taken on the trip to South Africa and my whole opinion of life changed. I realized God did have a plan for me and it was a good one too. The trip showed me that even though life has its ups and downs, you have to keep on moving on. I saw kids less fortunate than me and I had all these emotions running through me: SAD, MAD, HAPPY, ANGRY, JOYFUL, and most of all PRIVILEGED. God has truly blessed me with this opportunity and I hope another one comes soon. Peace and Love.
Joshua Hall, 15
Journey for Change has changed my life in so many ways. I have had the opportunity to serve others globally and here at home. It's interesting to see what we consider as a need is a luxury in other parts of the world. I had the opportunity to go to South Africa and I was overwhelmed with the needs of so many people. I realized that we take a lot of things for granted: clean running water, a toothbrush, toilet paper, and even my own room! It was a real "eye opener," and so hard to leave knowing there was so much more that needs to be done.
As Journey for Change Global Ambassadors our year of service took us to South Africa for two weeks of service, New Orleans to help build a new home for a Hurricane Katrina victims, the U.S. House of Representatives to meet with Rep. Maxine Waters, the United Nations to see how humanitarian efforts are being handled globally, a visit to CNN to see first hand how things were handled behind the scenes, college tours to Morehouse College, Howard University and much more. None of this would have been possible without Ms. Malaak Compton-Rock ('Auntie'). I am grateful for the love and time she spends with us. She always tells us "service is the rent we pay for living".
It truly has been a journey that changed me!!
Sydney Smart, 13
The Journey for Change trip to South Africa has empowered me to make better decisions for my life. Before I joined the program, my behavior was very selfish and ungrateful, but after those two amazing weeks in South Africa my world was turned upside down and I have improved. When I saw the horrific ways people lived in Diepsloot and Soweto, I was shocked. Many families didn't have food and couldn't afford their medical expenses. And a lot of kids were abandoned because their mothers died of AIDS and that was so sad. But to see how happy their faces were to see us because they knew we cared, changed all of my perspectives on: God, life and love and my whole Journey for Change.
After that life-changing trip, I have been volunteering a lot for the community and I have a better attitude toward decision making, school, and family.