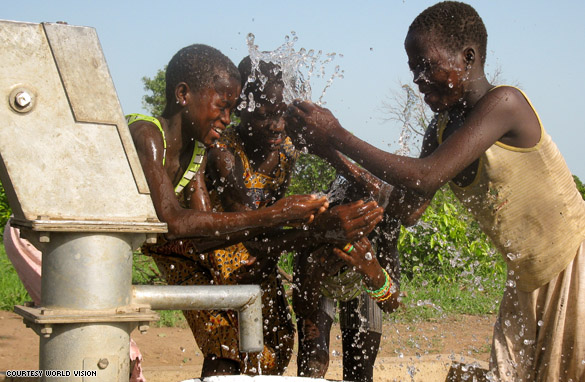 Chakun, Ghana had the highest rate of Guinea worm cases in its district before it got a new borehole. The villagers are now notably stronger and healthier that they have access to clean water.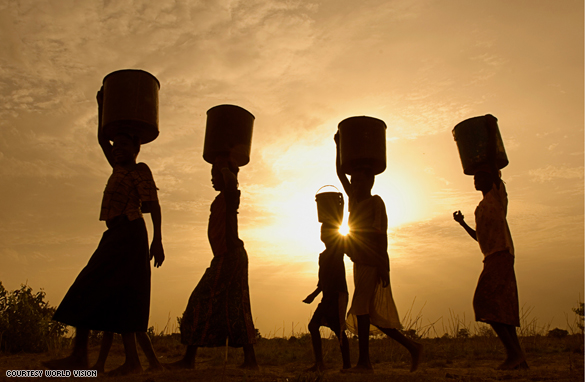 People fetching water from a dirty pond in Kpalang village, Ghana. The pond is the only source of water for this remote farming village of 600 people.
Auckhinleck Adow
Associate director, World Vision in Ghana
There was palpable excitement here in Ghana as President Obama visited this past weekend. He highlighted our nation's progress, most recently our peaceful, democratic election. Accra is still abuzz and my colleagues and neighbors are talking about it constantly.
Born and raised in Ghana, I remember the awe I felt as a child when Queen Elizabeth II visited in 1961. Now, my 13-year-old daughter had the chance to see the first African-American president visit her nation, and her excitement makes me proud of the progress our country has made. For example, Ghana is the only sub-Saharan African country on track to achieve the Millennium Development Goal of cutting hunger in half by 2015.
As I reflect this week on the visit, I wonder what windows of opportunity it offers for the nearly half of Ghanaians surviving on less than US $1 a day. And amidst President Obama's focus on Ghana's democratic progress and good governance, it could easily be forgotten that there are still so many Ghanaians struggling to survive.
I know that much of the outside world views Ghana as a peaceful and progressive nation in a struggling region, but the stark reality is that along with our relative progress, we still struggle with endemic poverty.
Our government has allowed aid organizations to make tremendous strides in development, but I am still concerned by the suffering I see around me on a daily basis.
In addition to poverty, harmful traditional practices also limit women and children's potential. In northern Ghana for instance, World Vision works with communities of outcast women who are shunned by their families and friends because they are accused of witchcraft. Many times these elderly women will take their granddaughters to live with them, leaving the girls little chance to experience a normal childhood. They will forego schooling to gather food and firewood so their grandmothers can survive. And, they will become outcasts by association, disowned by their society.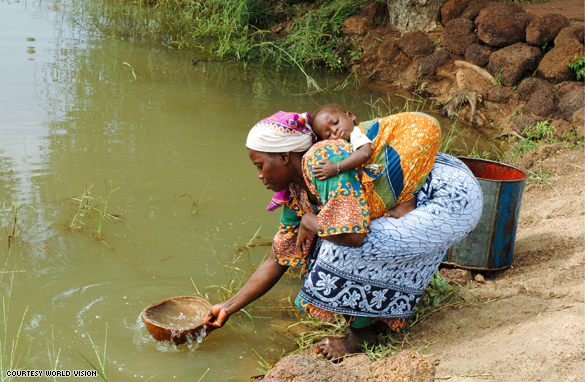 A woman draws water from a pond in Kpalang, Ghana. Meimunatu, 40, fears for her daughter who must drink the contaminated water.
Yet Ghana is still better off than many African nations. Where World Vision has had the opportunity to implement water projects, for example, I have seen entire communities transformed. Over the past several years, World Vision's partnership with the Conrad N. Hilton Foundation has enabled thousands of boreholes to be drilled and also provided over 10,000 latrines. In rural Ghana water is a precious commodity and providing clean water to a community is life changing and an opportunity to greatly reduce the effects of poverty.
Just before he arrived, President Obama and G8 leaders promised $20 billion toward food security in the developing world. Now, as a timeline is developed to deliver on this promise, it was the perfect opportunity for Obama to visit Ghana. According to the World Food Program, Ghana has shown consistent progress in fighting hunger, drastically decreasing from 5.4 million hungry people in 1990 to 1.9 million in 2005, but there is still much more to be done.
I see challenge, but much hope for triumph here everyday, and while many Ghanaians celebrate the visit of one of the world's most powerful leaders to one of Africa's most solid democracies, it is my hope that we will also join together in lifting the other half of our nation out of poverty.
Akwaaba, akwaaba (Welcome, welcome) President Obama to Ghana.
Editor's Note: World Vision is a Christian humanitarian organization dedicated to working with children, families, and their communities worldwide to reach their full potential by tackling the causes of poverty and injustice. World Vision serves all people, regardless of religion, race, ethnicity or gender.