Program Note: Watch Anderson's interview with President Obama on AC360° on Monday at 10 p.m. ET.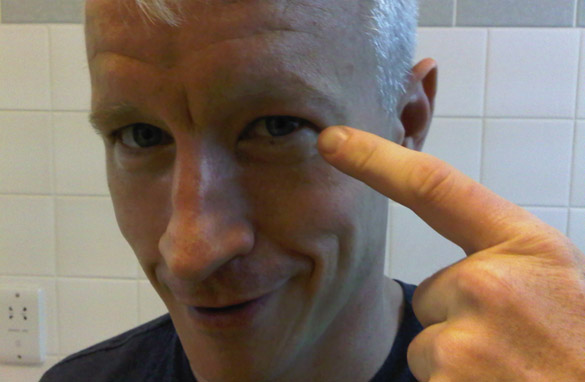 Anderson was bitten by something during the night. Here's his picture for proof.
Anderson Cooper | BIO
AC360° Anchor
@andersoncooper: just interviewed the President. We walked around Cape Coast Castle with him, it's a former dungeon for slaves heading to America.
@andersoncooper: we walked through the "door of no return," the portal thru which slaves were sent to the New World. Talked about the ...
@andersoncooper: ....impact of it on him and his family. Outside hundreds have gathered to get a glimpse of Obama....
@andersoncooper: playing endlessly, everywhere, is a ghana hi-life song "Bar-ack, Bar-ack. Bar-ack O-Bama." It's by a band "Black Rasta"..
@andersoncooper: ..its one of those songs that's catchy at first, but gradually drives you insane..like 99 Luftballoons. Remember that one?
@andersoncooper: forgot to mention. During the night I got bitten by something on my left eyelid.. Maybe a spider. When I awoke, my eyelid was ....
@andersoncooper: my eyelid had swollen nearly shut. Not the kind of thing you want to have happen before interviewing the President...
@andersoncooper: In my mind I looked like Sylvester Stallone in "Rocky". In reality i looked more like Mathew Broderick in the movie "Election."
@andersoncooper: luckily, by the time the President arrived it had gone down significantly. "Not so bad," he said to me as he sat down.
@andersoncooper: now its nearly back to normal..still a little swollen. I took a picture for the ac360.com blog. I'm about to go to bed.
@andersoncooper: I think I'm going to sleep with the lights on.
Follow all of Anderson's twitter updates @andersoncooper.