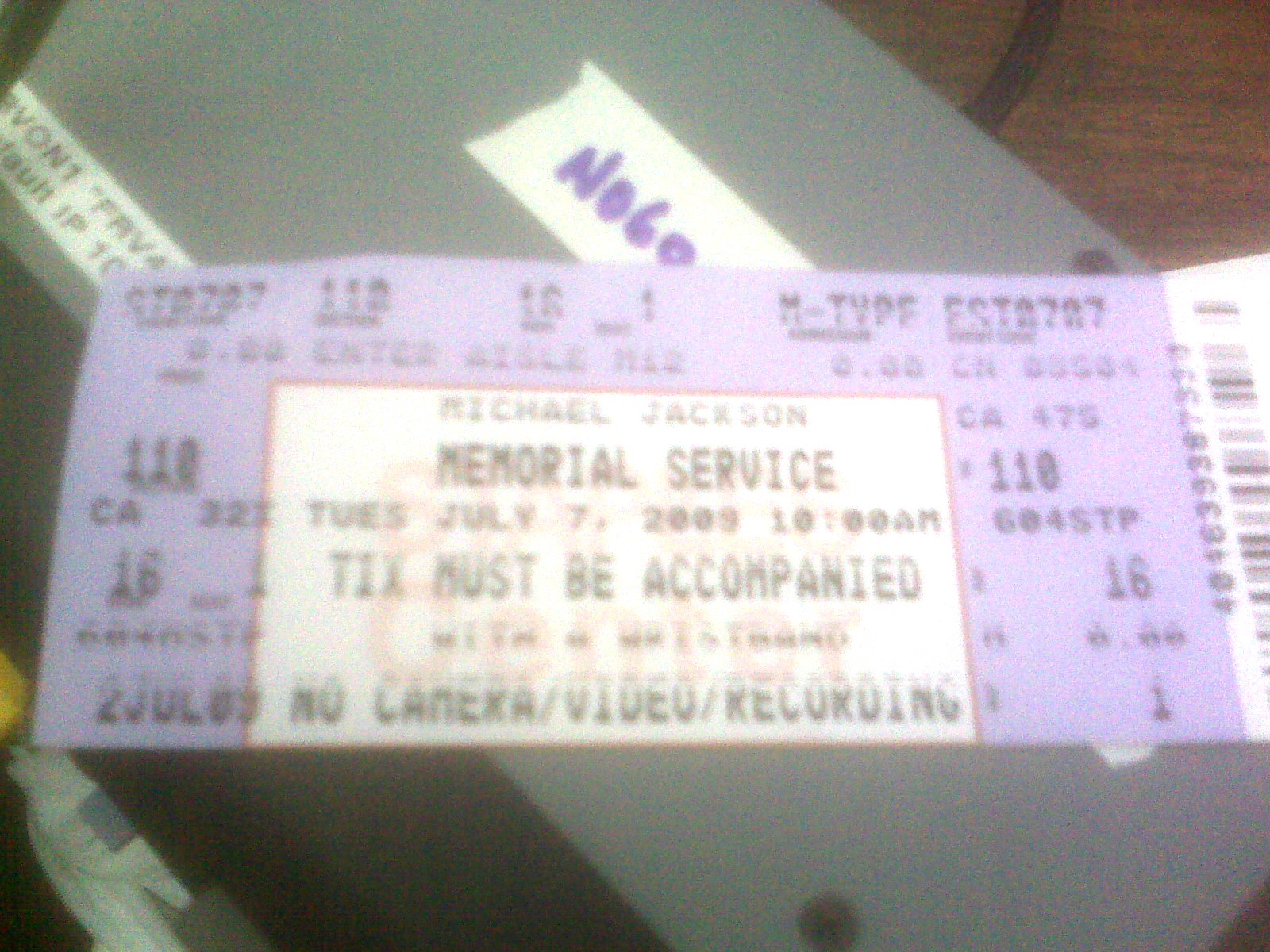 Kay Jones
AC360° Coordinating Editorial Producer
12:41 p.m. PT
Paris is breaking my heart. Not a dry eye in the arena
12:37 p.m. PT
Touching moment: Paris hugging her little brother and making sure he is ok.
12:33 p.m. PT
Rev Jesse Jackson swaying along, next to Rev Al Sharpton.
12:32 p.m. PT
Spike Lee just jumped up on stage too. Paris is hugging Blanket. Just so cute
12:30 p.m. PT
Wait not her. Just a look alike
Lots of hugging on stage right now
12:29 p.m. PT
Britney on stage!!!
12:28 p.m. PT
Blanket is on stage with his program. Prince and Paris are singing along. Just adorable
12:19 p.m. PT
Kid from Britain's Got Talent on stage now. Amazing!!!
12:10 p.m. PT
Usher is standing just a few steps from Jackson's kids and mother. Really touching song
11:52 a.m. PT
Ok, I admit it. Jermaine made me cry. So touching Now Dr Martin Luther King's children are speaking
11:45 a.m. PT
It is evident that Brooke Shields cared dearly about Jackson. She is so genuine in her words.
11:39 a.m. PT
Anyone else pick up on the brothers wearing glitter gloves?
Crowd cheering Brooke Shields on. She is trying to keep it together.
11:31 a.m. PT
Rev Al Sharpton is preaching on in here. He has the crowd responding with cheers and tears, and we know it's sincere. He told me Friday night that he wants us to remember the legacy.
11:24 a.m. PT
How the heck did Jennifer Hudson not win American Idol? She is truly amazing and sounds even better in person than on tv!
11:21 a.m. PT
Magic and Kobe just hugged Michael's children
11:09 a.m. PT
I think the entire arena is feeling Stevie Wonder. Tears are starting to flow all around, and I hate to admit, I even teared up.
11:04 a.m. PT
Huge roar, loudest so far, for Berry Gordy. You can feel the electricity in the arena.
The big screens are showing the arena what you are seeing on TV as well.
10:58 a.m. PT
I'm sitting next to 4 of the rudest people...Talking on the phone, to each other. I can barely hear Berry Gordy speak!!!
10:51 a.m. PT
Main message from Latoya: Keep the magic going!
10:46 a.m. PT
Some woman is wearing a mask and white gloves. Can't figure out if it's to be like Mike or if she's a germaphobe Queen Latifah has the crowd laughing. You can tell she is emotional and doing her best to hold it together.
10:43 a.m. PT
There is a group of about 50 people in all white. Really a mix of people and fashions, so to speak
10:33 a.m. PT
Lil Kim just walked by my section. Amazingly, the crowd just waved a little and showed her some respect. She is in all black
A choir is is on the stage now. The celebration is beginning
10:27 a.m. PT
Family got a standing ovation when they walked in. Was very nice, and not raukus at all.
People are still filing in. There are a smattering of empty seats but it's mostly full.
10:16 a.m. PT
Complete silence when Smokey Robinson spoke, now waiting for what's next. Someone just yelled "We love you Michael". Some hoots but mostly shhhhs.
10:10 a.m. PT
I'm in! Gold 8×10 programs handed to all ticket holders. Special message from Latoya inside as well as pics throughout his career. Starting soon.
10:04 a.m. PT
The motorcade just arrived, so I am heading into the Staples Center. We aren't allowed to take photos but hoping to sneak some.
Hearing from credible sources to expect surprises. The fact that his casket will be there was one, so wondering what else is in store.
9:14 a.m. PT
After a week and a half, we are here...
The public memorial service will begin in an hour or so, and everyone outside Staples Center is gearing up for this celebration of Michael Jackson's life.
I'll be inside, hoping to update you on what you can't see on CNN during the service. Will check in later!