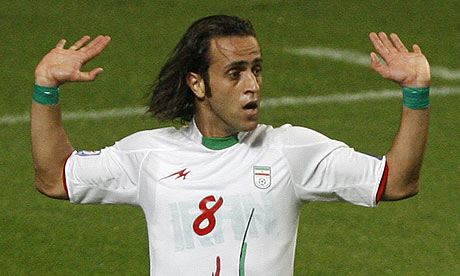 Ali Karimi during Iran's World Cup qualifying match in South Korea. Photograph: Lee Jae-Won/Reuters
Robert Tait
The Guardian
Their gesture attracted worldwide comment and drew the attention of football fans to Iran's political turmoil. Now the country's authorities have taken revenge by imposing life bans on players who sported green wristbands in a recent World Cup match in protest against Mahmoud Ahmadinejad's disputed re-election.
According to the pro-government newspaper Iran, four players – Ali Karimi, 31, Mehdi Mahdavikia, 32, Hosein Ka'abi, 24 and Vahid Hashemian, 32 – have been "retired" from the sport after their gesture in last Wednesday's match against South Korea in Seoul.
They were among six players who took to the field wearing wristbands in the colour of the defeated opposition candidate Mir Hossein Mousavi, which has been adopted by demonstrators who believe the 12 June election was stolen.