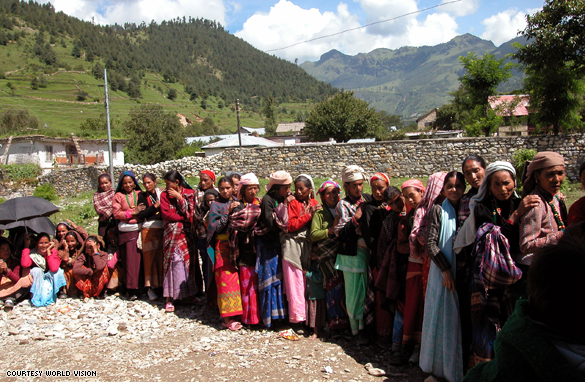 Craig Jaggers
World Vision U.S.
Policy adviser for global health
The World Health Organization has made it official. The United Nations' health agency raised its alert to the highest level for the new H1N1 "swine flu" pandemic yesterday, citing its spread and unknown potential for greater harm, while top health officials highlighted troubling questions for the world's poor compared with wealthier nations:
"It is prudent to anticipate a bleaker picture as the virus spreads to areas with limited resources, poor health care, and a high prevalence of underlying medical problems," WHO Director-General Margaret Chan said in the announcement.
Pandemics are not new to the billions of people in impoverished countries where AIDS, malaria and other diseases are already taking millions of lives each year. The onslaught of a new health threat in many of these places looms like the next massive wave on a stormy beach, threatening another body-slam against large populations already struggling for footing.
Dr. Chan underscores a pressing concern about developing nations' ability to cope and the need to focus on them. So far, the new flu's spread has mainly impacted countries with a higher capacity to respond with medical care and protective measures. What happens when that's no longer the case?
For all, this warning is a call to attend to the underlying weaknesses in global health that routinely devastate poor communities by the thousands.
These are the very populations with whom aid agencies like World Vision work in dozens of less-developed countries. They are especially vulnerable to outbreaks, given the prevalence of existing pandemics and lack of access to basic health services. The future may indeed look "bleak" if the virus continues to mutate and spread in such contexts.
A higher pandemic alert isn't going to suddenly change this reality, nor can it single-handedly pour ample resources into creating an adequate response in settings where health spending is already under pressure from the current economic crisis and ongoing poverty.
By making the designation official, Dr. Chan and her colleagues put the world on alert and emphasized the chance at a head start in the fight against the virus through good monitoring and early detection. Countries with the resources are either doing this already or likely to step up their efforts. Many less-developed nations, however, don't have the capacity.
Already, nearly 10 million children and mothers die every year from avoidable causes such as pneumonia, diarrhea and malaria as many countries fail to focus on community-based approaches and deliver on their global health promises. Lack of investment in developing health systems often means pregnant women must walk several miles just to access antenatal clinics, feverish children go without basic medication to treat malaria or pneumonia, and babies with diarrhea too often die of dehydration.
The word 'pandemic' has a grip on our attention that may prove doubly useful if it prompts leaders to take up the challenge of improving weak health systems and making sure each village and town is able to reduce threats to its most vulnerable, particularly children.
The best approach to mitigating the flu pandemic where poverty is prevalent is the same approach needed to hold back the tide of preventable diseases already threatening these communities – by investing in community-focused solutions to basic health. These are not complicated, expensive or high-tech solutions. They include providing access to clean water, training in good hygiene practices, investing in community health workers, distributing mosquito nets and ensuring essential drugs are available.
Without stronger local health access, even providing vaccines to poor countries will have limited benefit. Stocks of vaccine without systems in place to immunize, monitor and treat people won't do enough.
Fortunately, government officials at the annual World Health Assembly in Geneva last month voted to re-establish primary health care as a chief priority for development – a welcome signal that aligns with commitments these leaders have already made to reduce child and maternal mortality by 2015. It is this primary health approach that will benefit the poor most broadly and help ensure that future pandemic announcements don't hold the same threatening scenario of a "bleak" horizon.
In the absence of overwhelming outbreaks, when the coughing, sneezing or aching starts, there are places those of us in wealthy nations can go that will provide us with basic to high-level care, even if we are uninsured. Too few in the developing world have such a place to turn.
We should be concerned. The lack of primary health care in developing nations near or far ultimately affects us all. The jump of this novel swine flu strain from a rural village in Mexico to the rest of the world should tell us that much.
The future of this virus will be told by time – but we do know that without adequate basic facilities, community health workers and general disease prevention efforts, countless lives will continue to be lost, flu pandemic or not.