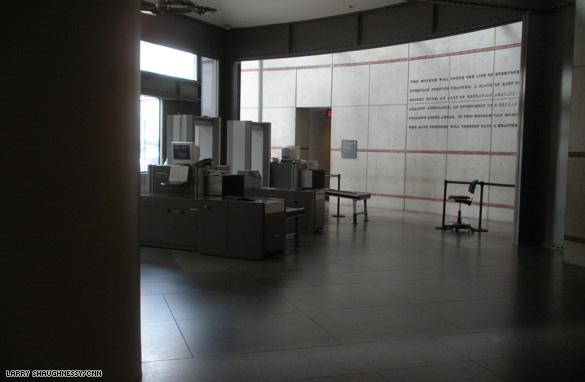 Inside the Holocaust Memorial Museum.
Larry Shaughnessy
CNN Producer
We came in the same way hundreds of tourists escaped Wednesday afternoon's shootout. The "back" door of the US Holocaust Memorial Museum. The security officers were on duty. Still professional, helpful, kind. But not happy, not upbeat. Not after one of their own gave his life protecting the museum's visitors.
The Museum gave CNN exclusive access to the building Thursday, the first news crew inside since the shooting.
The first sign that there'd been trouble. A worker was sweeping up trash left behind yesterday... a single brown flip lay on the floor in the midst of torn papers and dust. It appeared during the rush to safety someone lost a shoe and didn't try to go back and get it.
We noticed almost none of the security officers were wearing body armor. Of the dozen or so officers on duty only one was wearing a bullet-resistant vest. We asked if that was a concern, he said "Everyone will have one soon." He didn't elaborate.
And the officers each had a black piece of tape stretched across their badge. It's a time-honored tradition when people in law enforcement lose a colleague. A tradition too often repeated in America.
One officer showed us a t-shirt he had made up for his fellow officers to remember their friend. "RIP Big Johns" it read. Big Johns was the nickname they used for Officer Johns.
And make no mistake they are "officers" NOT "guards." Several times we were asked to make sure CNN didn't call them guards. They are trained law enforcement officers. They carry guns. DC Metropolitan Police Department formally swears them in before they start their jobs.
We were there to interview Sara Bloomfield, the Director of the Memorial Museum. But before she arrived we were allowed to see the entrance where a gunman opened fire, killing Officer Stephen Tyrone Johns.
The crime scene investigators had finished their work. Marking each bullet hole with a number. The one in the wall across from the metal detectors at the entrance was number 9.
We could see visitors come up to the door that Officer Johns held open for his killer, taking pictures of the spider-webs of cracks the spread from each bullet hole.
A cleaning crew was busy scrubbing the floor around the metal detectors, making sure when the doors open Friday morning, there'll be no sign of what happened.
Another crew took the bullet-riddled door off its hinges and carted it away. When visitors do return Friday, the only violence they'll be reminded of will be the violence perpetrated by the Nazis on millions of Jews during World War Two.