[cnn-photo-caption image=http://i2.cdn.turner.com/cnn/2009/images/05/29/art.poolwaterslide.jpg]
Editor's Note: For more on the global impact of North Korea's nuclear tests and a discussion with former Secretary of State Henry Kissinger, tune in to Fareed Zakaria GPS this Sunday at 1pm and 5pm ET.
Thomas E Goldstone
Senior producer, "Fareed Zakaria GPS"
An elaborate waterslide that drops thrill-seekers in a 50-meter pool. A massive stadium built at great cost but rarely used. And a field that looks like a mass burial ground.
What is this? Some sort of twisted mis-managed amusement park?
No, welcome to Kim Jong Il's North Korea.
The waterslide, stadium and burial ground were all located by a group of about a dozen sleuths – some amateur, some former military – brought together by grad student Curtis Melvin and his website www.nkeconwatch.com.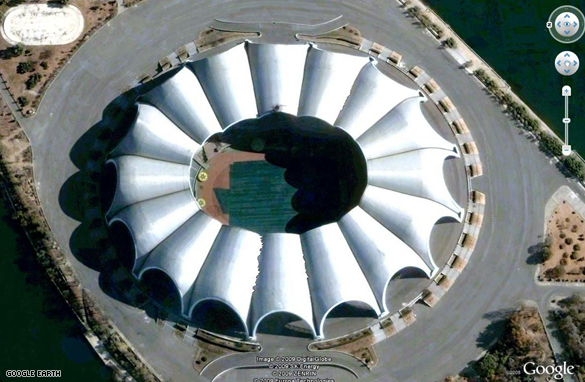 Melvin and his team pore over satellite images of North Korea on Google Earth, looking for landmarks that might aid in our understanding of the bizarre nation. One of their methods is to scour photosharing sites for pictures taken by the few tourists, aid workers, and governmental officials allowed in to North Korea every year. If, for instance, somebody posted a group photo in front of a monument, Melvin's group will look for a distinguishing characteristic in that monument and then try to locate it from the air – or, in this case, from its armchairs in front of Google Earth.
Keep Reading...
Some of the other interesting things they say they have found:
a brewery shipped brick by brick from the UK
the nation's first Italian restaurant
Kim's golf course
countless statues of Kim's father Kim Il Song
massive shells of buildings never used
The nkeconwatch.com citizen cyber spies believe the waterslide is part of a compound where Kim Jong Il and members of North Korea's elite live. They say that field that looks like a mass burial ground really IS a mass burial ground and is filled with victims of the nation's tragic starvations which are believed to have killed millions of its citizens.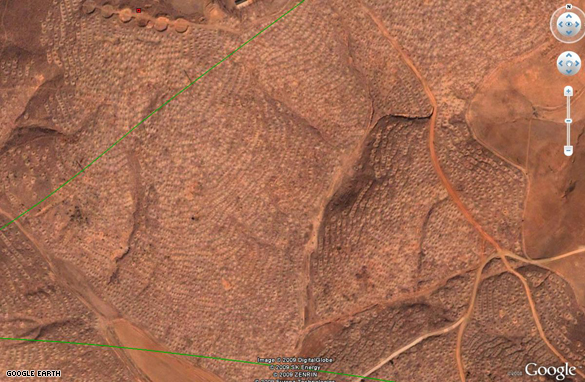 To check some of the group's findings, we asked an expert on satellite intelligence – IHS Jane's Senior Image Analyst Allison Puccioni – to look at satellite images of a few of the landmarks for us.
So is that pockmarked field really a mass burial ground? Indeed, says Puccioni, but what's different here from mass graves is that these dead are all buried individually. And she says this is consistent with what she knows about the so-called "hermit nation": "It's sadly ironic that in a time where people can no longer sustain themselves the North Koreans still manage to bury their dead with the painstaking tradition of their culture. The burial mounds are unusually close together probably to save land for agriculture".
And on the alleged waterslide, Puccioni says that the pool is indeed a 50-meter pool and that swirly thing next to it? "The most logical thing this could be is a water slide". Puccioni says normally she wouldn't believe it was a water slide, but "conventional norms in imagery analysis go right out the window" when dealing with Kim Jong Il.
Puccioni says this reporter's call asking her to analyze a picture of an alleged waterslide is probably the strangest request she's received in her 16 year career.
Strange calls in the investigation of a strange nation.