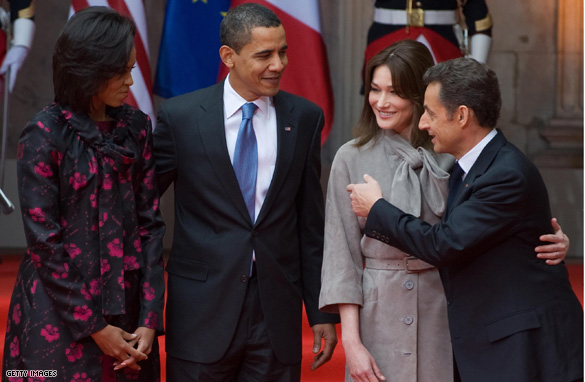 Tom Foreman | Bio
AC360° Correspondent
The French have a remarkable talent for irritating Americans with their fancy wines, fluffy poodles, and snotty attitudes about cycling. But when it comes to picking First Ladies, you've got to hand it to them. And that's saying something considering the extraordinary popularity of our own Première Femme, Michelle Obama.
Seriously, have you been keeping up with the adventures of French President Sarkozy's wife, Carla Bruni? Anyone who follows international news knew that we were in for a treat the moment she alighted on his arm, and she has met every expectation: From crooning songs about drug abuse, to being locked in a legal battle with a company that was selling shopping bags bearing her nude image.
Most recently, the former supermodel (an appellation with which, alas, I too am tagged) has once again stormed the headlines by lighting into the Pope, saying his views on contraception are hurting the fight against AIDS in Africa. Like President Obama's Notre Dame speech here, the kerfuffle certainly does not involve all the Catholics in her country, but still at the original Notre Dame…mon Dieu!
Maybe the uproar would be less uproarious if it were not for another recent story swirling around her, namely a Paris burglary that netted one lucky thief hundreds of photographs of a Bruni taken during her years with a former lover; photographs described as "highly intimate." Phrases like that need no translation.
And during a recent interview, she scandalized the country by referring to her husband with a French term of affection that means "my little cauliflower." Mind you, I'm not sure why this would be scandalous, especially in France, where topless beaches are as common as McDonalds here. Apparently for the French, vegetables are embarrassing but melons are fine. Or something like that.
For all our feigned frustration, I think many of us, along with our French cousins, secretly adore each other and all for the same reason: We each think the other country is at least mildly crazy. Can you imagine the uproar here if the nation suddenly found out that a First Lady had been photographed extensively au naturel? We've been carrying on for weeks about Michelle Obama wearing sleeveless dresses for crying out loud. Bare arms? Zut!
Still, the very real influence of these two ladies on their cultures and frankly, on the world's, should not be underestimated. Much has been written about the new age of the earth's leaders, but don't think it is just the elected ones who are changing politics as we know it. Between Michelle's growing legions of fans and Carla's candor, the Golden Age of First Spouses may also be coming on strong.