Editor's Note: Congress today sent to President Obama a bill that makes it tougher for credit card issuers to raise fees and interest rates. The move caps a years-long crusade by consumer groups and Democrats, CNNMoney reports. The approval came despite objections by banking industry advocates. The bill includes an unrelated measure allowing people to carry guns into national parks. So what exactly is a national park? Check out this interactive map.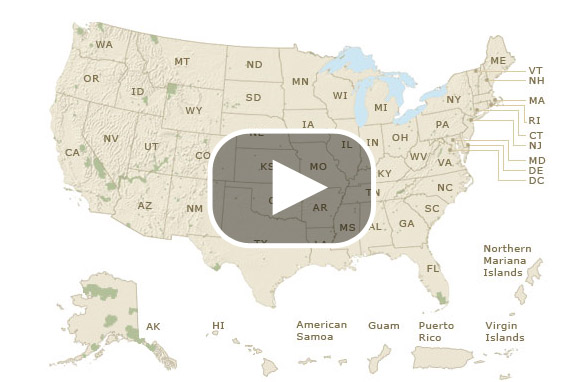 What government agency oversees the National Park Service?
The National Park Service is a bureau of the Department of the Interior. Directly overseeing its operation is the Department's Assistant Secretary for Fish and Wildlife and Parks.
How Old is the System?
The National Park Service was created by an Act signed by President Woodrow Wilson on August 25, 1916. Yellowstone National Park was established by an Act signed by President Ulysses S. Grant on March 1, 1872, as the Nation's first national park.
How many areas are there in the National Park system?
The National Park System comprises 391 areas covering more than 84 million acres in every state (except Delaware), the District of Columbia, American Samoa, Guam, Puerto Rico, and the Virgin Islands. These areas include national parks, monuments, battlefields, military parks, historical parks, historic sites, lakeshores, seashores, recreation areas, scenic rivers and trails, and the White House. Learn More about National Park Designations.