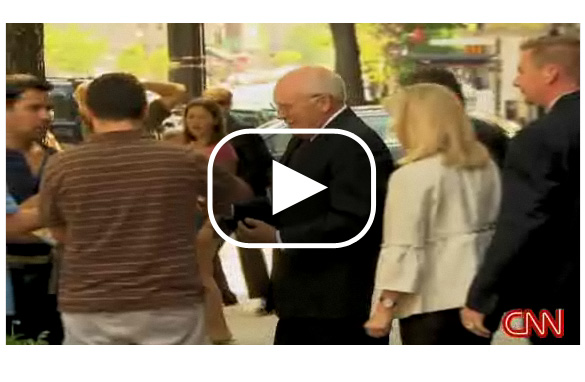 Greg Clary
CNN
Who says nobody likes former Vice President Dick Cheney? The ex-number two man in the White House left office with a 30 percent approval rating, but he still had quite a few fans waiting outside for him Sunday at CBS' Washington, D.C. studios.
Cheney was a guest on CBS' 'Face The Nation with Bob Schieffer,' where he continued to defend the Bush Administration's use of so-called enhanced interrogation techniques. About a dozen people waited for him to come outside after his appearance.
Once Cheney exited the studios, he obliged one person in the crowd by signing a baseball. There's no word on exactly why the fan wanted Cheney to sign a baseball.
If you remember, the former VP was booed loudly when he threw out the ceremonial first pitch at the Washington Nationals' home opener back in 2006.
After Cheney greeted the onlookers, he hurried back to his car but not before a CNN Radio producer could ask him why he is the one left to defend the Bush Administration. Cheney replied simply, "Because that's what Vice Presidents do."
Signing a baseball and defending the legacy of a Presidency; all in a day's work for the now retired Dick Cheney.