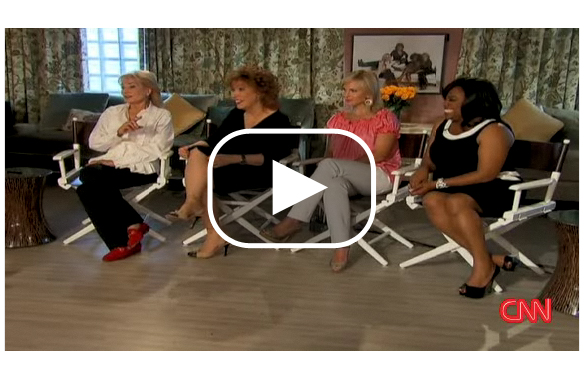 Mary Anne Fox
AC360° Producer
My heart skipped a beat when I heard I was producing Anderson's interview with the women of 'The View' and it isn't the reason you're thinking. Don't get me wrong, I'm a big fan of the show and I grew up wanting to be Barbara Walters, but it was the thought of the sheer logistics behind such a shoot that caused my heart to go pitter patter. First, there was the usual, how are we going to find a day and time to block for the interview that works for Anderson and all five of 'The View' women? Thank god that doesn't fall under my domain. But once we had a date and time (30 minutes), I had to figure out how to pull it off without using a studio set and staff to do so. Oh, and did I mention I'm on a tight budget?
We settled on using a room in the ABC building, so the ladies could walk right off their set and into the interview. The room was tight (and pink), but we somehow managed to fit four cameras, a jib (a contraption with a camera on it that does all kinds of funky moves), an audio designer & board, lighting (we used lots of it) and our CNN crew. It took over six hours to set up, but when we had all four of the ladies seated (Whoopi was out sick) things looked pretty good.
Anderson talked to Barbara, Joy, Elisabeth and Sherri about inserting themselves into the political conversation last year and whether or not in hindsight they thought they were fair. He also asked about guests they would love to have on their show, hot topics and of course the question we all want to know: Do they honestly like each other?
For nearly twenty minutes the ladies gave us a glimpse into what it's like to be a part of their little club. They seemed honest, real and very funny. Just one note: don't go calling them the ladies of 'The View'. Tune in tomorrow night to find what the ladies would prefer to be called.
The Time 100/AC360 special "The World's Most Influential People" airs tomorrow night at 11pm. Time Magazine's 100 Most Influential People issue also hits newsstands on tomorrow.