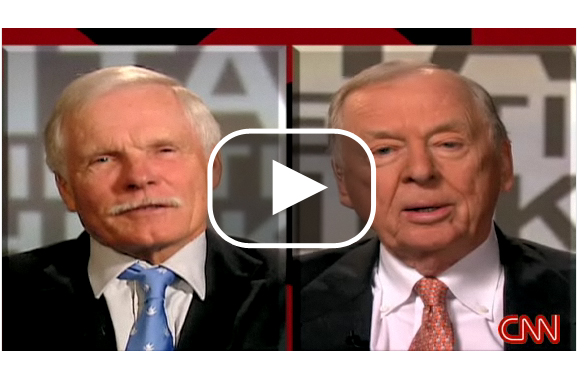 Mary Anne Fox
AC360° Producer
I was intrigued with the idea of producing a segment where former media mogul and CNN founder Ted Turner and legendary oilman turned environmentalist T. Boone Pickens interview each other. What do two people who've made a fortune from scratch, live for giving it away and are obsessed with clean energy ask each other? There was just one problem: their hectic schedules.
Despite the endless efforts of our editorial producer, Kay Jones, we couldn't get the two billionaires together in the same city for an interview. But, thanks to our CNN bureaus, we were able to bring them together via satellite. Using four cameras with T. Boone in our New York studios and two with Ted nearly nine hundred miles away in Atlanta we were able to mimic a face to face. And as soon as the two hunting buddies saw each other on the big plasma, they took it from there and never looked back.
They joked with each about who looked better in a suit compared to their hunting outfits, as well as who looked younger. But then they quickly transitioned to a conversation that got to the heart of why the two were nominated under the category of builders and titans for Time 100's Most Influential People in the World issue.
Tune in on Friday night at 11p.m. for the Time 100/AC360 special: "The World's Most Influential People" to see more of this interview. Time Magazine's 100 Most Influential People issue also hits newsstands on Friday.