Program Note: To watch the full interview tune in Friday, May 1, at 11 p.m. ET for the Time 100/Anderson Cooper 360° Special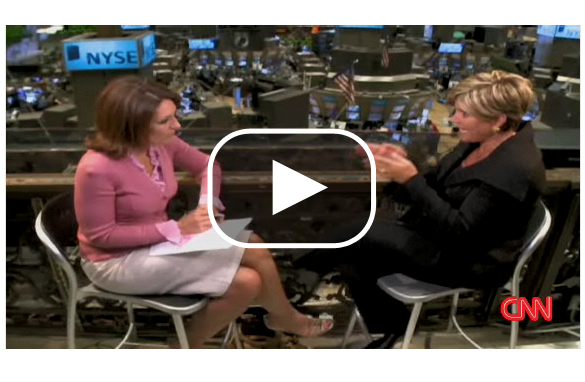 Susan Chun
AC360° Producer
When I heard I was producing this segment with Suzy Welch, business journalist, interviewing Suze Orman, personal finance expert, I knew two things right off the bat. First I knew I would be meeting two smart, powerful women with strong personalities. And because of this, I knew second that I would be witnessing a fascinating conversation. I wasn't wrong. We did the interview at the New York Stock Exchange, overlooking the trading floor.
We managed to squeeze four cameras, a multitude of lights, two director's chairs, and a small army of CNN staffers on to the 2nd floor balcony right above the floor. The setting was appropriate for both women since both had come out with books in the past year giving advice to people during these tough economic times. Suze Orman had also rung the opening bell at the NYSE a few weeks ago. That day, her manager and partner was quick to point out, was one of the rare days the market closed up.
The two already knew each other and chatted away like old friends when they arrived for the interview. They both couldn't have been nicer, greeting our crew with warm smiles and little jokes. Suzy Welch, former editor of the Harvard Business Review, didn't need any help from me on what kind of topics to cover with Suze Orman, she came well prepared with a list of questions covering everything from the economic meltdown (Suze says it didn't have to happen), to Barack Obama (Suze loves him), to Suze's favorite TV shows (American Idol and Dancing with the Stars).
Welch even twittered about the interview, asking people to send her questions to ask Orman. Predictably, one twitterer wanted to know where she should put her money in this market. To this, Orman drove in the point she made repeatedly throughout the interview. It's all about people she says. She cannot give personal financial advice without knowing the person. To Orman, her job is all about the person, who you are, what you want out of life, how you handle yourself. She says financial advice is not about studying economics, but about studying people.
The two women clearly had a mutual respect and admiration for each other. The interview, which was really more like watching a conversation between two old friends, was personal, and even fiesty at times, especially when Orman declared with absolute certainty, "When it comes to money, there is nothing I do not know."
Tune in on Friday night at 10pm for the Time 100/AC360 special: "The World's Most Influential People" to see more of this interview. Time Magazine's 100 Most Influential People issue also hits newsstands on Friday.