[cnn-photo-caption image=http://i2.cdn.turner.com/cnn/2009/images/03/13/art.mayorvilla1.jpg caption="L.A. Mayor Antonio Villaraigosa tells Anderson that electric trucks designed for container transport create more "green" jobs in his city and cut down on pollutants."]
Barclay Palmer
AC360° Senior Producer
Green trucks could help rescue the economy. That's what L.A. Mayor Antonio Villaraigosa is telling us - and the Obama Administration.
Villaraigosa wants the government to give $6.8 billion in stimulus money directly to Los Angeles, where the unemployment rate has hit 12% - up from 8% just since October.
What would L.A. do with the money? For starters, it would buy some "green" trucks using alternative fuels, such as electricity and natural gas. The electric trucks are made right in Los Angeles by a company called Balqon. So buying more of them would make L.A run reduce pollution and create jobs at home.
The mayor showed us one of the trucks during an interview with Anderson. And he also showed us the Port of L.A. where some of those trucks would be used. The port handles 44% of all seaborne goods coming to the U.S., Villaraigosa told Anderson. It also generates more than 25% of carcinogens in the area. He wants to make the port greener - cleaner, more efficient, and more competitive with other ports around the world. And he says upgrading it would create a ripple effect of more money and jobs across the country.

[cnn-photo-caption image=http://i2.cdn.turner.com/cnn/2009/images/03/13/art.mayorvilla3.jpg caption="Anderson walks through the Port of Los Angeles with Mayor Antonio Villaraigosa, who says he needs federal stimulus money for "green" upgrades to make the port cleaner and more efficient."]
Villaraigosa isn't just asking for stimulus money. He wants the government to change the way it gives out stimulus money.
He says some money should go directly to cities, because he fears that states would be too slow to dole it out, and that California would shift the money from job creation to deficit reduction. (Is he planning to run for governor?)
Villaraigosa is just one of thousands clamoring for cash. But he might have a leg up in getting heard. He's a darling of the Democrats, and an Obama ally.
See Anderson's interview with Villaraigosa on AC360 at 10PM Monday. It's the first of five days of special coverage as Anderson crosses the country, reporting from Los Angeles, New Orleans, Detroit, New York and Tampa to report on how Americans hit by the economic crisis are finding ways to pull through.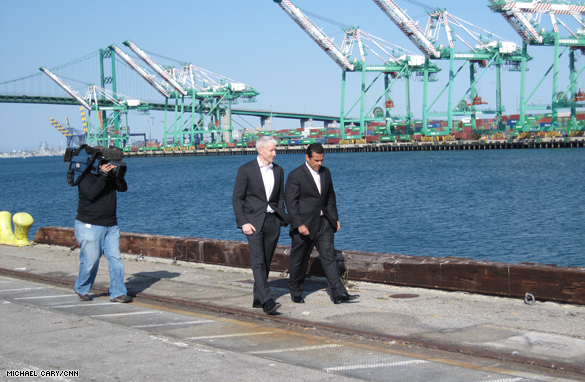 All Photos taken by Michael Cary, CNN Senior Producer, Western Region.