Program Note: Tune in tonight to hear Sanjay talk about his interview with former president Bill Clinton at 10 p.m. ET on AC360°.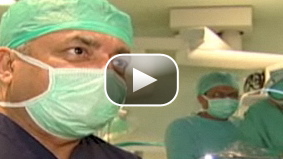 Danielle Dellorto
CNN Producer
Medical News Unit
Dr. Sanjay Gupta and I recently packed our bags on a voyage around the world - India to be exact. We wanted to investigate the newest trend in health care: Medical Tourism. Americans are beginning to literally "country shop" for the best hospitals at the best price for their operations.
We spent time at a New Delhi hospital and it wasn't what you might expect. It was upscale and high-tech. It had marble floors, wi-fi, a book cafe, even a Subway in the lobby. Their operating rooms were stocked with the latest high-tech medical equipment and the majority of their surgeons had studied or worked in the United States.
So we started to ask ourselves, what are they doing to save costs that we aren't? How can the exact same procedure cost $10,000 in India and $100,000 in America?
New Delhi neurosurgeon, Dr. Ajaya Jha believes America's hospitals are wasting a lot of money on administration costs. Oh yeah, he also says we aren't good negotiators (more on that later).
Jha believes too many people are making careers out of, "carrying laptops and documenting things that are not really useful in the long term for the patient." Fair enough. Also, the salary of a U.S. surgeon is five times of a surgeon in India. "Nobody can't work for free, right? We [surgeons in India] want to make a profit but we don't want to profiteer. We don't want squeeze people and I think American industries should also think that way," Jha says.
But why would an x-ray on the same machine cost a patient 10 times more in the U.S.? It appears they're paying a lot less for the actually equipment. Hospital officials in India say they negotiate hard and get rock-bottom deals.
But come on, are they really better negotiators? Or are medical equipment companies just ripping America off? That's a question health reformers in Congress need to sort out.
The 'cost-saving' advice we heard in India goes on and on. They feel America's malpractice and legal fees are too high. They believe we open unnecessary medical supplies then depose of them without thinking twice.
The argument that we're wasteful holds some weight when you look at the numbers. Procedure costs to patients are so high yet half of America's hospitals are in the red. Why?
One thing is for certain, as the Obama administration begins reshaping our health system, they might be able to learn a thing or two from the hospitals in India.
But I want to know what you think! Are our hospitals wasteful? Are salaries of U.S. docs too high? Should the government start regulating the sale of medical equipment? Do you think we're getting ripped off?
Editor's Note: Catch Dr. Sanjay Gupta's full investigation of Medical Tourism from India on "Vital Signs" March 26th on CNNI.