Editor's Note: Rob Kunzig, of National Geographic Magazine, went to northern Alberta last summer to write about the oil sands boom. To read his blog about the assignment, click here.
Rob Kunzig
National Geographic Magazine
In the Athabasca Valley north of Fort McMurray, the oil companies are going to amazing lengths to scrape oil from the frozen ground. First, they raze the boreal forest, then they strip-mine tarry sand with gargantuan trucks and steam shovels, and finally they cook the tar out of the sand and then cook it some more to upgrade it to oil. It takes a huge amount of energy. That puts a lot of carbon dioxide into the atmosphere, above and beyond what comes out our tailpipes when we burn the resulting gasoline.
Here are photos of the region.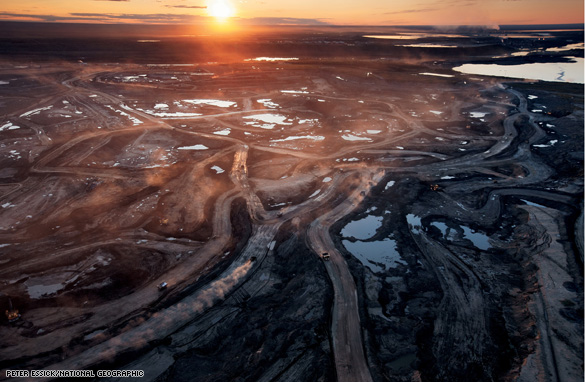 Dust hangs in the sunset sky above the Suncor Millennium mine, an open-pit north of Fort McMurray, Alberta. Canada's oil sands are layers of sticky, tarlike bitumen mixed with sand, clay, and water. Around a hundred feet of soil must be stripped off to reach many deposits.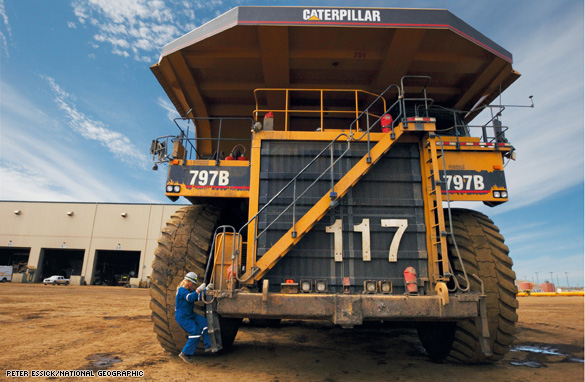 A giant shovel at the bottom of a mine delivers sand to trucks like this three-story, four-million-dollar Caterpillar, which muscle up to 400 tons at a time to extraction plants.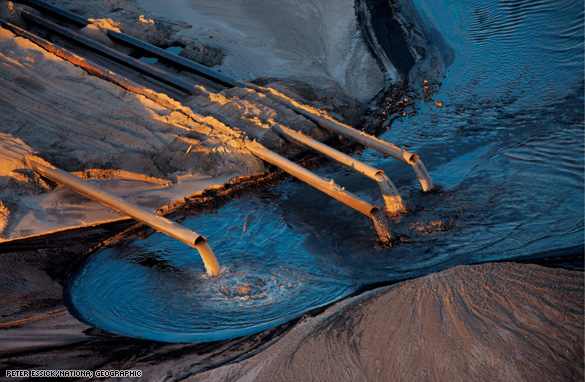 Oil sands surface mining operates on extreme scales, with crews working around the clock through hot summers and subzero winters to feed heavy demand.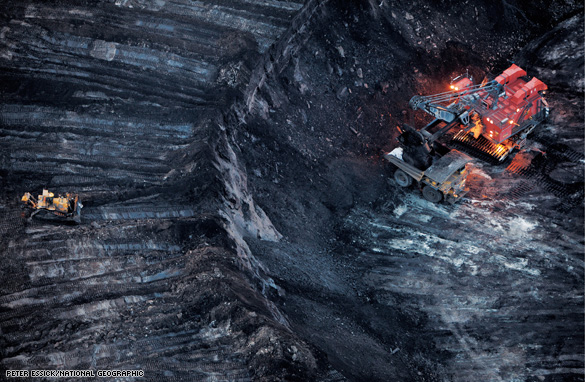 A giant shovel at the bottom of a mine delivers sand.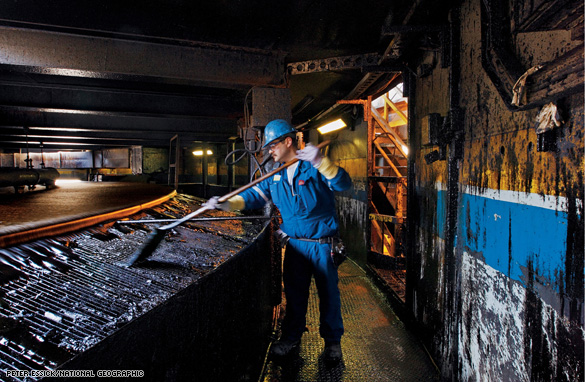 As the bitumen rises to the top of the wash, Suncor employee Lee Flett skims off wood, leaves, and other debris before the sticky load is sent to an upgrading facility that converts it to synthetic crude oil.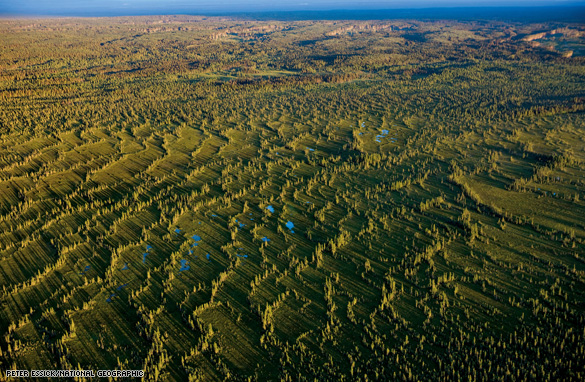 Beneath a green sweep of fen and forest in northern Alberta lies a promise of wealth–vast layers of hydrocarbons that can be refined into petroleum products like gasoline. Undisturbed until now, these trees may soon fall: This land has already been staked out by prospectors.
Editor's Note: For more information, check out the March issue of National Geographic Magazine.