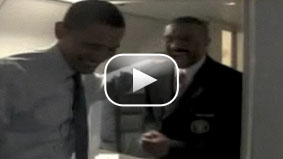 What does the president eat on Air Force One? What are the secret defense systems? CNN's Randi Kaye reports.
Randi Kaye
AC360° Correspondent
Guess what Barack Obama ordered for his first meal on board Air Force One!
A cheeseburger! Medium-well with cheddar. Salad on the side. And of course, french fries!
National Geographic was filming a documentary on Air Force One to air Sunday night at 8pm eastern on the National Geographic Channel, and as luck would have it in the final days of filming, Barack Obama needed to make his journey from Chicago to Washington, DC.
You can see some clips from the documentary in the video clip attached.
It's pretty great stuff. In addition to ordering the cheeseburger, Obama tells his new pilot, Colonel Scott Turner, he reminds him of someone out of 'central casting' before adding, "you're exactly what I'd want my pilot to look like!"
It's a great moment. The producer of the film, Peter Schnall, told me Obama seemed right at home with the crew of Air Force One. He got a brief tour of the plane, including the living quarters, the bedroom, the Presidential bathroom (one of seven bathrooms on board the plane) and of course all the bells and whistles about how the White House at 40,000 feet operates.
I was most moved by the end of the documentary when Obama lands at Andrews Airforce Base. He tells the crew he'll see them after the inauguration, in a couple of weeks. He makes a special effort to go to the cockpit and say goodbye. And when he walks down the flight of stairs he is clearly moved by this moment. The producer said he was silent and just seemed to be taking it all in. The presidential limos and crowds of media awaited him at the bottom of the stairs.